Editor's Power Tool Review
Check below to find the latest tool review from the editors at Tool-Rank. We review the tools we think you would find the most helpful, so you can shop with confidence. We have tool reviews from major brands like Milwaukee Tool, DeWalt, Makita, Dremel, Bosch, etc.
Power Tool Reviews
Cordless Tool Reviews
Hand Tool Reviews
Multi Tool Reviews
Circular Saw Reviews
and much much more.
If you would like to see a specific tool review, let us know. After all, we are here to help you. We like to do tool reviews that are unique and fun, but we also enjoy reviewing the standard tool you would use for everyday projects. We review tools from small Mom & Pop manufacturers, to large world brands, everything from Ryobi to Milwaukee.
Chris   August 02, 2011  
0
0
I was a bit skeptical when I first heard that DeWalt would be making hand tools. I figured the tools would just be re-branded Stanley tools, like the Bostitch hand tools were. How would a bunch of re-branded hand tools be interesting news for you to read? It wouldn't, but thankfully for all of us, the new DeWalt tools are not just a simple logo change. The DeWalt line of hand tools look like they were built upon Stanley models, but also improved upon. As a way to show the skeptics among us what they really...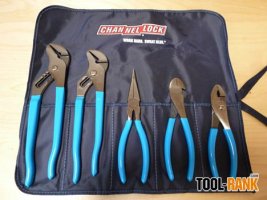 Channellock has put together a great general purpose tool roll set, and in my opinion it is the best tool set they offer. The Tool Roll No. 3 Gift Set includes the: 430 tongue & groove plier, 420 tongue & groove plier, 337 cutting plier, 3017 long nose plier, 526 slip joint plier. These 5 tools are a great addition to a DIYer's small collection of tools, and can be used for many of the most common DIY tasks. This is not some cheap tool set either, and should last a lifetime. Channellock sent me this...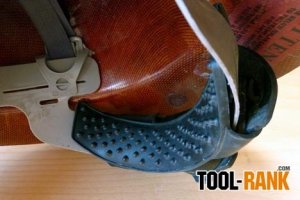 Is is fair or even possible to call a ToolRank Pick just from seeing a product demonstrated in a video? Well, that is pretty much the case for the Hat Grabber. The moment I saw it in action on video I knew it had the potential to be a real winner; all I had to do is test it out for myself to make sure it worked as well as advertised and confirm my suspicions. If you remember, the Hat Grabber is a small hardhat add-on that claims to better hold your hard hat on your head....
You know I love lasers, they automatically make everything cooler, and the Johnson 40-6616 tiling and flooring laser square is no exception. This cool little squaring laser projects two lines across the floor that are 90-degrees apart, thus making it ideal for the flooring trades. But you don't have to be one of the flooring trades to get good use out of this tool; the 40-6616 works great for anyone needing to make squaring lines on the floor. Though the 40-6616 uses new technology like lasers, the tool itself is very simple in design...
Tools are cool and lasers are cool, so we can pretty much assume that tools with lasers on them are double cool. So when Johnson Level sent over their 40-0921 self-leveling cross-line laser, even though I have used other cross-line lasers, I knew I would have fun testing it out. So after getting the kit out of the box, the obvious next step was to take it to the jobsite and put it to work. The Johnson 40-0921 comes in at a price of around $100 which puts it in the price range and...
Do the new Lenox Speed Slot Hole Saws Work? Yes. This is the easiest review yet. OK you might want a little more information on the subject, but in the end, the Speed Slot Hole Saws work as advertised. The stepped slot in the side of the hole saw made it super easy to eject out the piece of wood by simply working your prying device (screwdriver) up the steps. The Lenox hole saw may be named after the stepped slot, but there is a little more at work that ensures successful puck removal....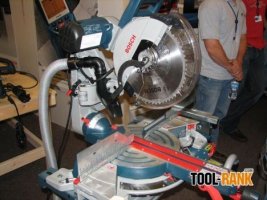 I have wanted to write a review for the Bosch Axial Glide miter saw for a while now, but the saw has so many features, that I thought It would be best to just do a video review. It looks like Bosch really took their time to make sure everything was done right, this not only includes the things you would expect, like bevel and miter controls, but even the smallest of things are done right. The Bosch GCM12SD miter saw is great, and is probably the best 12" saw on the market. I do a lot...
Up this time for review is the Johnson 40-6048 Glo-View Digital Level. This level is built around the Johnson Glo-View level body (reviewed here), but gets boosted into the digital age with a digital readout and all the goodies that goes along with it. Since I have already covered the analog parts of the level in the regular Glo-View review, today I will only be covering the digital parts. Analog levels have served us well for so many years, why do we need to go digital? Well, I am not here to tell you...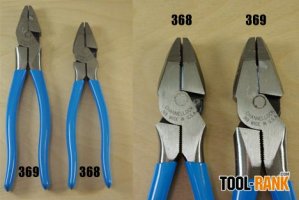 BrandChannellock Model #368 Buy Amazon Not too long ago I review the ChannelLock 9.5" 369 Lineman Pliers, but today I have the new smaller 368 8" version. As I mentioned in my previous review of the 369 Pliers, I am not a professional electrician, and any electrical work that I do is on a small scale. It is because my electrical work is DIY that I prefer the smaller ChannelLock 368's.I simply do not need the added cutting power that the 9.5" version offers. Sacrificing a...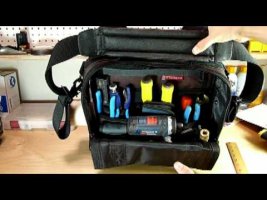 Tool organization is not one of my strong suits, so when Veto Pro Pac said they wanted to send me one of their tools bags to review, I happily accepted. What they sent out was their LC bag, the smallest of their closed top bags. You might be unfamiliar with Veto Pro Pac because they are not something you will find in your local bigbox store, but they have become popular amongst contractors because of their design functionality, and high quality build. I think the problem with most tool bags is they...