Editorial
Chris   June 24, 2011  
0
1
In an effort to better organize my home workspace I decided that I needed to get some of my non-work tools out of boxes/bags and into places where I could more easily access the ones I use most. My solution was simple, and probably the same solution that many of you use, pegboard. A full sheet of pegboard is cheap, and with the right hooks and attachments, you can organize a good portion of your tools. Next all I needed was pegboard hooks. Lucky for me, my Father had a box full of them that he let me dig...
Tool Blog
Chris   April 14, 2015  
0
1
Channellock has come out with a brand new line of Xtra Slim Jaw Adjustable Wrenches, which have been designed to fit in places where normal adjustable wrench just can't go.  Available in both 6" and 8" sizes, the wrenches have been designed to be durable despite being 40 percent thinner than a regular wrench of the same size.
Tool Blog
Chris   June 11, 2014  
0
1
Our hands are one of our most valuable tools, so why not protect them? According to the Bureau of Labor Statistics, 25.3 percent of all work-related lost-day injuries are hand-related. Maybe you think there isn't a glove out there for you, but that is why Klein is introducing six new gloves styles as part of their Journeyman Glove line.
Hot Deals
Chris   May 20, 2014  
0
0
If you are subscribed to the HomeDepot PRO newsletter you are probably used to them sending you a lot a mail with hardly any value in them; but every once in a great while they have a coupon or sale in them that makes it all worth it. Yesterday's email was one of the rare gems, announcing an online sale on select Milwaukee Tools, Ridgid tools, Pnuematic compressors and nailers, and more. And this isn't just a regular sale, the saving on some of the items is big. An 18-Volt Milwaukee Hammer...
Tool Blog
Chris   May 13, 2014  
0
3
Milwaukee has announced that they will be coming out with their own line of locking pliers and clamps. But what sets them apart from all the other locking pliers that are already available is a new feature called Torque Lock.
Tool Blog
Chris   April 17, 2014  
1
1
Klein Tools is expanding their insulated hand tools line with new electrician's tools with "slimmer, sleeker profiles", which have been certified by VDE in Germany.  These "made in the USA" tools feature a three-part insulation and have been tested to 10,000V and rated at 1,000V.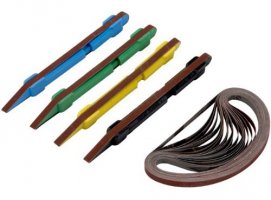 Tool Blog
Chris   November 14, 2013  
0
1
When working with small wooden projects or crafts, one of the hardest parts of completing your project is the final sanding. Getting into those nooks and crannies with regular sandpaper is not exactly easy. The Sanding Detailer is a product I recently discovered that is a stick sander that uses replaceable belts and is small enough to fit where other sanders cant.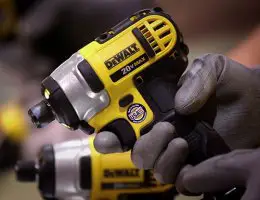 Manufacturer News
Chris   November 11, 2013  
1
1
Today DeWalt announced that they will begin to build more than 600 different hand tools, cordless tools and accessories in the USA using global materials. Included will be some of their most popular products, such as the 20V Max Lithium-ion Compact Drill/Driver Kit and the 20V Max Lithium-ion ¼-inch Impact Driver Kit. The new tools will be marked with a "Built In USA" logo.
Hot Deals
Chris   November 11, 2013  
0
1
A Tool-Rank user sent in a tip about a price reduction on the Wiss 1-1/2-inch 3-piece Steel Aviation Snips set at Lowe's. The regular price on these was about $35, but they have now been reduced to $19.97, a savings of 43%. For comparison, HomeDepot has this same 3-piece set listed for $31.46. Quantities and availability may vary from location to lactation, but you also have the option to buy from Lowe's online. If your local HomeDepot carries this same set, you also have the option of using their price matching policy to get an additional 10%...
Tool Blog
Chris   November 04, 2013  
0
2
As children, how many of us remember opening up the little doors on an advent calendar to count down the days until Christmas? Wera is bringing back those fun times with an advent calendar geared towards men; but instead of chocolate or a simple message, there are tools hidden behind those doors.