16 results - showing 1 - 10  
Manufacturer News
Chris   March 09, 2017  
0
1
Craftsman has been in trouble for a number of years, I think mostly due to the fact that Sears itself has been having problems. Today, though, Stanley Black & Decker completed their purchase of the Craftsman brand from Sears Holdings Corporation, and Craftsman will have a second chance as a maker of American tools.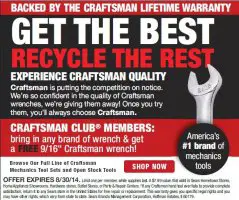 Hot Deals
Chris   August 07, 2014  
0
1
How would you like to get a free Craftsman 9/16-inch wrench and help out Military Families at the same time? You see, Craftsman wants to donate up to $25,000 to Rebuilding Together to allow them to make critical repairs to military families' homes, but they need your help. Your reward is a shiny new Craftsman 9/16" wrench.
Hot Deals
Chris   August 13, 2013  
0
1
Sears has a hot deal up right now on a 12V Drill and Impact kit for the low low price of $39.99, Regular $109.99. The kit also includes a single 12V lithium-ion battery. The kit would be considered light-duty by today's standards, but at only $40 it is well worth the price. Buy it as a tool to use around the house and it will pay for itself after just a few uses. Heck, the impact has more torque than the impact I used every day on the job a few years ago. If I didn't have...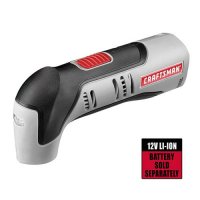 Hot Deals
Chris   April 30, 2013  
0
1
We don't see deals like this very often, but Sears has their Craftsman Nextec line 12-volt Multi-Tool (tool only) for sale for less than ten bucks. This is just the bare tool and doesn't come with any accessories, but what would you expect for only pocket change. The regular price for this tool is $59.99, and kit sells for just under $80. This deal is probably only worthwhile to people that already own Craftsman Nextec 12-volt tools, as a separate purchase of a battery and a charger will cost you nearly $50. You would be better off...
Hot Deals
Chris   December 26, 2012  
0
1
Didn't find that tool you wanted under the Christmas tree or in your stocking? Don't worry because there are still plenty of deals to be found. A number of sites are offering After Christmas Sales that are just as good as the before Christmas sales.
Manufacturer News
Chris   October 02, 2012  
0
3
Who do we turn to when we need saving? Why the Justice League of course. But who does the Justice League turn to when the Hall of Justice needs saving from disrepair? Apparently they turn to the Craftsman Technician and his trusty Craftsman Bolt-On Modular Tool System.
Reviews
Gary   April 17, 2012  
0
4
My wife loves her garden; so when she happened to suggest that this year she would like to try raised garden beds, and Craftsman happened to request a review of their new digging shovel, I said; "let's get started." A serious digging project requires a serious digging tool, and the Craftsman Long Handle Digging shovel is as serious as they come.

Weekend Links
Chris   March 31, 2012  
0
0
12V Recip Saw Showdown, Milwaukee v Bosch v DeWalt v Makita – Coptool Which ultra-compact reciprocating saw is best? Coptool puts the 12V recip saws from the major brands in a head to head battle. They test cutting speed, power, battery life, comfort and more. Check out the review to see who Coptool chooses as the winner. Custom Woodworker Takes on OSHA and Wins – Woodworking Network The big bad OSHA is out there and they just might find you and fine you, even if you did nothing wrong. How?...
News
Chris   January 11, 2012  
0
0
Just last week I had to go inside the door panel on my Ford Explorer to try and figure out why the lock mechanism was no longer working and boy is it tight in there. Even though I could see where I needed to work with a flashlight, when it came to doing the actual work, my hand always seemed to cast a shadow. What I needed was hand tools with built in lights.
News
Chris   December 27, 2011  
0
0
Is my prediction of the end of Sears already starting to come true? I made this prediction when it was announced that Craftsman tools would be sold at Ace Hardware stores, then just two weeks ago a Wall St. analysis made the prediction that Sears would disappear in 2012.
16 results - showing 1 - 10