Tool Blog
Chris April 02, 2015
1
1
Rockler Woodworking and Hardware wants to make the installation of drawer slides simple with their new Universal Drawer Slide Jig (57302). The jig fits most types of drawer slides and provides a solution for accurate and repeatable positioning of both side-mount and center-mount slides within a cabinet.
Tool Blog
Chris March 26, 2015
0
3
Rockler has come out with a new clamp that makes it easier than ever to clamp onto the edge of plywood, MDF and other sheet goods. The Rockler Bendy Clamp provides even pressure around the edge, allowing for hassle-free installation of thick edge-banding and moldings.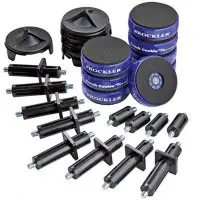 Hot Deals
Chris March 03, 2014
0
1
While Rockler's popular Bench Cookie Plus Master Kit normally sells for just under $64, it has come to my attention that it is currently on sale for only $39.99. The Plus Master kit not only includes a set of non-slip router cookies, but also a few different accessories that extend their versatility.
Tool Blog
Chris February 24, 2014
0
1
Rockler Woodworking and Hardware has introduced T-track Stops, a new accessory that adds more versatility to the Rockler T-Track Table and other T-track setups. Their low-profile design allows them to hold materials in place while leaving the top surface available for sanding, surface planning, or any number of other woodworking tasks.
News
Chris October 15, 2013
0
1
If you have had your eye on the CNC Shark system from Rockler Woodworking and Hardware, now might be the perfect time to make that purchase. Rockler has come out with a new Limited Edition Black Diamond version of their largest CNC Shark model that comes with some nice extras, such as surface mapping. Best of all, it is on sale for the same price as the Shark HD V2.0
News
Chris October 02, 2013
1
1
Rockler Woodworking and Hardware has come out with a new product that I think is pure genius; and this genius comes in the form of a new electric router fence that can be programmed to make cutting box joints, dadoes, and dovetails a breeze.
News
Chris September 23, 2013
0
5
For the most part Rockler caters their stores and their tools to people who work in shop environments, and their own products are no different. Rockler has come out with a new line of tool pouches and aprons that have been designed to meet the different needs of those working in a shop, including the ability to use them off the belt.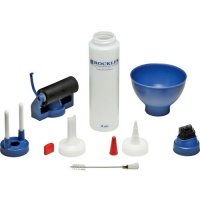 News
Chris August 06, 2013
0
8
If you do a lot of work with wood, you might find that your glue bottle gets used just as much as your other tools. So in an effort to make the task of gluing as easy as possible for every application, Rockler has come out with a new Glue Bottle Applicator Kit. Rockler even found a way to make a silicone brush into an attachment.
News
Chris May 20, 2013
0
2
You think Rockler has done all they can do with their Bench Cookies? Think again. Rockler has come out with yet another accessory for their Bench Cookie, this one called Bench Cookie Bridges. Bridges offer another way to turn the Bench Cookie into a raised finishing platform.
News
Chris January 18, 2013
0
2
Do you remember the Mixing Mate that Rockler came out with last summer? It fit onto a regular quart-sized paint can and promised a no-hassle way for users to store, mix, and pour their paints and finishes. It must have been successful because Rockler has now come out with a gallon-sized version.