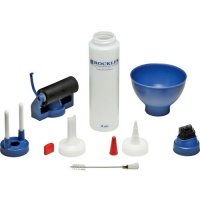 News
Chris   August 06, 2013  
0
8
If you do a lot of work with wood, you might find that your glue bottle gets used just as much as your other tools. So in an effort to make the task of gluing as easy as possible for every application, Rockler has come out with a new Glue Bottle Applicator Kit. Rockler even found a way to make a silicone brush into an attachment.
News
Chris   May 20, 2013  
0
2
You think Rockler has done all they can do with their Bench Cookies? Think again. Rockler has come out with yet another accessory for their Bench Cookie, this one called Bench Cookie Bridges. Bridges offer another way to turn the Bench Cookie into a raised finishing platform.
News
Chris   January 18, 2013  
0
2
Do you remember the Mixing Mate that Rockler came out with last summer? It fit onto a regular quart-sized paint can and promised a no-hassle way for users to store, mix, and pour their paints and finishes. It must have been successful because Rockler has now come out with a gallon-sized version.
Reviews
Chris   January 16, 2013  
1
0
Last year I reviewed the first and original silicone glue brush from Rockler and was impressed right away by how well it worked. And while I liked the brush and recommended it, I did have a problem with it not being able to fit inside a glue bottle. Rockler's solution? The Mini Silicone Glue Brush.
News
Chris   November 14, 2012  
0
3
Silicone Glue application tools must be gaining in popularity. Rockler first started out with their basic Silicone Glue Brush early in the year, then just a few months ago they developed a full Silicone Glue Application kit; but the New Silicone Mini Glue Brush is what I was waiting for.
News
Chris   August 14, 2012  
0
1
Not too long ago Rockler came out with their silicone glue brush and it received rave reviews. In light of such success, Rockler has just expanded from just the silicone glue brush to a full silicone glue application kit.
News
Chris   August 07, 2012  
0
0
When you are working with a lot of different tools on your workbench, it can become crowded pretty easily leaving little room for your actual project. Rockler has come up with a solution as simple as a tool tray that mounts under your workbench.
News
Chris   June 15, 2012  
0
0
Not happy with the current way of mixing, pouring and storing your paints and finishes? Rockler has a new product called the Mixing Mate that does all three; and I think the person that came up with the design did it over a plate of pancakes.
Weekend Links
Chris   May 05, 2012  
1
0
A Seriously High-Buck LED Worklamp – ToolMonger Festool is known for making high quality and high priced power tools, and ToolMonger also found that they make really high priced portable LED work lights. The Festool SysLite powers a total of six 3-watt LEDs that are said to produce a clear white light capable of brightening an entire room. It has an internal rechargeable battery, but it can also be plugged into the wall for extended use.
Reviews
Chris   March 11, 2012  
0
0
Rockler must have a great team of product researchers in their employment because every year they come out with a few great products that either fill a void, solve a problem, or improve upon a design. This year one of their products is the silicone glue brush. Some of you guys wanted to know how well it worked, and Rockler was kind enough to send me one, so I put it to the test.