Hot Deals
Chris   February 23, 2012  
0
0
Looking for a good deal on a router and dovetail jig to go along with it? For a limited time Rockler is offering a Porter-Cable 690LR fixed base router and a 4210 dovetail jig for the low price of only $199.98. This is a savings of about $50 if you were to purchase each one separately from Amazon. The 690LR features a 1-3/4 horsepower motor that spins at 27,500 RPM's and comes including collets for both 1/4-inch and 1/2-inch shank bits. The 4210 dovetail jig has a 12-inch board width capacity and can be...
News
Chris   February 09, 2012  
0
0
Instead of buying a large quantity of regular glue brushes that you always end up throwing away, Rockler wants you to buy their new Silicone Glue Brush (45624), keep it, and reuse it over and over again. Their Silicone Glue Brush looks like a mini version of a silicone brush you might find in a kitchen, and if the technology works so well in the kitchen, it might be worth giving it a try in the shop.
News
Chris   January 13, 2012  
0
0
Rockler makes and sells tons of great products that make building stuff a whole lot easier, and the task they want to make easier this time, is building custom window shutters. Their new shutter jig solves the problem of positioning and spacing the shutters correctly, but Rockler also has an online plan wizard so that you can make sure each shutter fits onto each window.
News
Chris   August 05, 2011  
0
0
The trim router has always been a handy tool to have around the jobsite, and thanks to advancements in technology, these little guys have become more and more powerful over the years, at no cost to their compact size. Originally intended for only trimming laminate, these "Trim" routers are now powerful enough to handle many of the jobs of their bigger brother. Rockler has obviously seen that the new generation of trim routers are being underutilized, and have come out with a new trim router table to bump them up to their true potential....
News
Chris   August 01, 2011  
0
1
You would think that with all of the workbenches in all of the garages all over the country, you would have a few different choices when it comes to workbench protection, but that is not the case at all.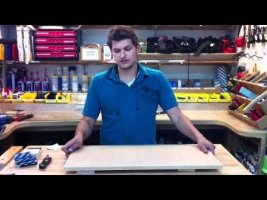 News
Chris   July 13, 2011  
1
0
Even though I have never used them, I still believe Rockler's Bench Cookies are one of the best tool inventions for woodworkers and finish carpenters. I always assumed I would pick up a set, but thus far I have not needed them; but now thanks to Fastcap, I might not ever own a set. Why? Because Fastcap's new TracPad lets you make your very own router cookies brownies. I always thought the Rockler cookies were a tool that could easily be DIY'd with some pieces of a router mat, a few blocks or circles...
News
Chris   May 10, 2011  
0
0
The F-style clamp has been a tool in my arsenal for as long as I can remember; for quick clamping needs I also turn to my Vise-Grip or Lock-Jaw clamps, but whenever I need greater clamping capacity, the F-style is the clamp I turn to. The F clamp is great in a lot of ways, but they also have their shortcomings. Thankfully, Rockler has come out their own version that seems to fix some of my dislikes. From a side view the clamp looks just like any other, but when you look at it...
News
Chris   January 03, 2011  
0
0
I don't spend a lot of time on Twitter, but I do like to check in throughout the day to respond to my followers, and to see what might be new in the world of tools. A couple of days ago a tweet from @RocklerDave pointed to some new products that Rockler.com will be carrying. As a lover of tools, it was my duty to click on the link to see what was new.
News
Chris   December 08, 2010  
0
0
I would have never expected to see accessories for something as simple as the Rockler Bench Cookies, but you can't go wrong when trying to make a product even more useful. The new Cones for Bench Cookie offer painters a way to utilize the non-slip abilities of the Bench Cookie, and apply this to there finishing process. The cones will work with all Bench Cookie models and simply fit snugly over the body of the cookie. What the cone does is further lift your project off of your bench, which allows for greater access...