11 results - showing 1 - 10  
Tool-Rank
Chris   February 02, 2014  
0
2
Contest Information
Contest Ends
February 28, 2014
One of the modern tools that makes life a whole lot easier is the cross-line laser level. If I put together a list of tools that every DIY'er should own, the cross-line laser would be on that list. So needless to say, I am happy to announce that this month Tool-Rank has teamed up with Johnson Level to giveaway one of their brand new 40-6650 Self-Leveling Cross-Line Laser Levels.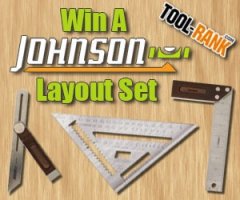 Tool-Rank
Chris   April 01, 2013  
0
1
Contest Information
Contest Ends
April 30, 2013
There is something common we all need when working on any type of project, and that is good layout and marking tools. But one tool is not good enough for every task. This month Tool-Rank has teamed up with Johnson Level to give away three of their newest layout squares so that you are ready to tackle your projects.
News
Chris   February 13, 2013  
0
1
Johnson has come out with a couple of new torpedo levels designed to meet the specific needs of tradesmen. These 6-inch and 9-inch levels are not your typical plastic torpedo levels but instead are machined out of solid aluminum and offer other professional features.
News
Chris   February 04, 2013  
0
4
A couple of years ago Johnson Level first introduced their bamboo levels. Bamboo is advantageous to use for a number of reasons including strength and sustainability, so is it any wonder that they have decided to introduce a line of T-Bevels and Try-Squares that use the fast growing grass?
Reviews
Chris   June 27, 2011  
0
0
You know I love lasers, they automatically make everything cooler, and the Johnson 40-6616 tiling and flooring laser square is no exception. This cool little squaring laser projects two lines across the floor that are 90-degrees apart, thus making it ideal for the flooring trades. But you don't have to be one of the flooring trades to get good use out of this tool; the 40-6616 works great for anyone needing to make squaring lines on the floor. Though the 40-6616 uses new technology like lasers, the tool itself is very simple in design...
Reviews
Chris   June 12, 2011  
0
0
Tools are cool and lasers are cool, so we can pretty much assume that tools with lasers on them are double cool. So when Johnson Level sent over their 40-0921 self-leveling cross-line laser, even though I have used other cross-line lasers, I knew I would have fun testing it out. So after getting the kit out of the box, the obvious next step was to take it to the jobsite and put it to work. The Johnson 40-0921 comes in at a price of around $100 which puts it in the price range and...
Reviews
Chris   April 28, 2011  
0
0
Up this time for review is the Johnson 40-6048 Glo-View Digital Level. This level is built around the Johnson Glo-View level body (reviewed here), but gets boosted into the digital age with a digital readout and all the goodies that goes along with it. Since I have already covered the analog parts of the level in the regular Glo-View review, today I will only be covering the digital parts. Analog levels have served us well for so many years, why do we need to go digital? Well, I am not here to tell you...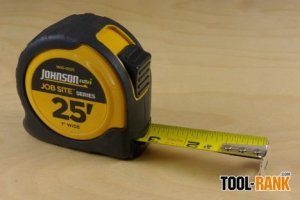 Reviews
Chris   March 22, 2011  
0
0
The simplest tools are often the hardest to review. How much different can any two tape measures be? They are all basically as simple as a thin piece of metal with lines and numbers. So simple, yet, I have the hardest time finding one that I like. I have used tape measures from all of the major brands and have a good understanding of what I like and need, but none of them on the market fit the bill. Design is what makes or brakes a tape measure. It spends a lot of time in our...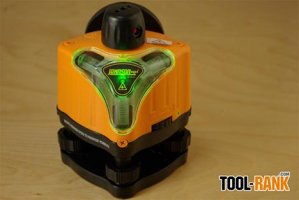 Reviews
Chris   February 09, 2011  
0
0
Lasers have been one of the most useful and most popular tools in the last 10 years or so. Technology in a whole has been advancing more rapidly then ever before. This allows us to buy more advanced tools from the past at a much lower price today. Case in point is the Johnson Model: 40-0918 manual-leveling rotary laser level that Johnson sent over for review. Just a few years ago it would have been impossible for a DIYer to go out and buy a rotary laser level, but today the 40-0918 can be purchased for...
News
Chris   January 26, 2011  
0
0
Bamboo is the fastest growing plant on Earth and also one of the strongest; so why isn't more stuff made out of it? Well, the hollow down the middle of each piece of bamboo might have something to do with it. But now thanks to new technology and strong glues, more and more possibilities for bamboo are becoming available. To make bamboo more useful, they cut it into smaller pieces, then glue all of these pieces together to form larger lumber. It is from here that they can make things like flooring, or in the case...
11 results - showing 1 - 10