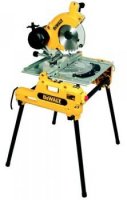 News
Chris   August 10, 2011  
1
1
We have seen a couple of combination miter/table saws now enjoying freedom in the U.K., one from Bosch with a table mounted on top of a miter saw, and one from Makita that flips to transform. Now it is DeWalt's turn to join in on the fun with their very own flipping combination transformation miter/table saw.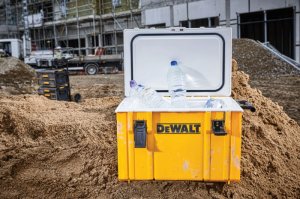 Tool Blog
Chris   June 29, 2018  
0
1
As I have mentioned numerous times in the past, I am a big fan of the modular DeWalt ToughSystem (be sure to read my review). It is what I use to organize and transport my tools to and from the jobsite. Even though I have my system configured just how I want it, I am always excited to see what new additions DeWalt makes to the modular system.  However, their latest additions are not really what I expected, a ToughSystem Ice-Cooler (DWST08404) and the new ToughSystem Waterseal Drawers (DWST08290).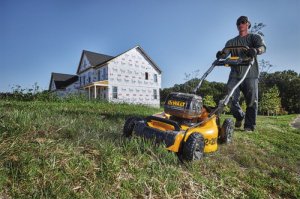 Tool Blog
Chris   February 23, 2018  
1
2
After a few years of offering cordless outdoor power equipment, DeWalt has announced that they will finally be offering a 40V Brushless Mower as an option for professional landscapers, and a second 2x20V MAX mower will also be available for Contractors and DIY'ers.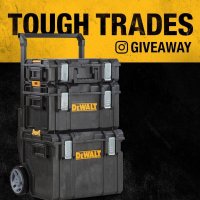 Around The Web
Chris   December 04, 2017  
0
1
Contest Information
Contest Ends
December 14, 2017
TOWSON, MD (December 4, 2017) – DEWALT® celebrates trades this holiday season. Starting today, DEWALT will give away tools for a variety of trades on its DEWALT Instagram page. The #ToughTrades giveaway is dedicated to the people who are employed in woodworking, electrical and plumbing, and mechanical industries, concrete and masonry professionals, metalworkers, and general contractors. DEWALT is committed to providing these professionals with products that deliver the performance they need to get tough jobs done each and every day.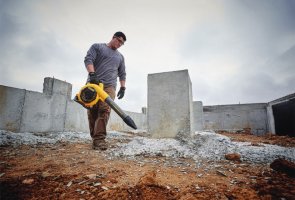 Tool Blog
Chris   March 16, 2017  
0
4
After DeWalt only recently came out with their Flexvolt system to address the needs of power hungry cordless tools, they have expanded the line to include the growing market of cordless outdoor power equipment. The DeWalt Flexvolt Outdoor Power Equipment lineup will include a new 60V Max Chainsaw, Handheld Blower, and String Trimmer.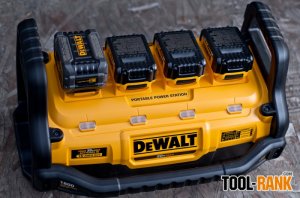 Reviews
Chris   February 06, 2017  
0
10
It is easier than ever to find a cordless replacement for any number of once corded-only power tools. Yet, the fact still remains that there are certain tools that are not yet cordless or may never be cordless. When you need to use these tools in a place without an outlet nearby, your only option is a noisy gas generator—which is useless indoors. DeWalt's answer to this problem is their new DCB1800 1800-Watt Portable Power Station and Parallel Battery Charger.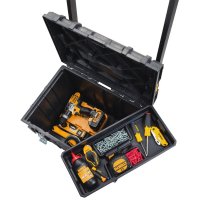 Tool Blog
Chris   December 06, 2016  
1
8
The DeWalt ToughSystem is by far the best solution I have come across to store and transport my tool to and from the jobsite, so I get excited when I hear about any new products in the ToughSystem line. In addition to a couple of new ToughSystem storage boxes, DeWalt finally has a solution to storing their boxes in a workshop.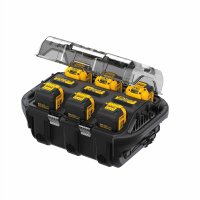 Tool Blog
Chris   October 27, 2016  
1
2
The decision for landscapers to switch out their outdoor power equipment from gas to cordless electric just got a bit easier thanks to the new 40V MAX 6-Pack Charging Station from DeWalt, which has been specifically made for DeWalt's line of cordless outdoor power equipment.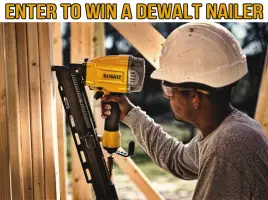 Tool-Rank
Chris   September 01, 2016  
0
1
Contest Information
Contest Ends
September 30, 2016
Tool-Rank is happy to be able to team up with DeWalt to giveaway away a brand new DeWalt Pneumatic Nailer. Best of all, the winner gets to choose which nailer they will receive. If you do a lot of general construction, the DeWalt 21° Plastic Collated Framing Nailer (DWF83PL) might be right for you. If you see a new roofing job in your future, the DeWalt Coil Roofing Nailer (DW45RN) might be your choice. Both Nailers are being provided by DeWalt, so it would be nice if you sent them a tweet or comment letting them know that you...
Tool Blog
Chris   June 30, 2016  
0
7
DeWalt has come out with a revolutionary new FlexVolt battery that can automatically change its voltage from 20V to 60V to match the voltage required by the tool. Two FlexVolt batteries can also be combined to deliver 120V Max to tools that require even more power. Best of all, the new DeWalt FlexVolt battery pack is backward compatible with existing DeWalt 20V Max cordless tools.