Tool Blog
Two New DeWalt Cordless Mowers Coming Soon
Two New DeWalt Cordless Mowers Coming Soon
https://www.tool-rank.com/media/listing/photos/thumbnail/300x300s/be/de/4f/DCMW220P2-A3-10-1519382629.jpg
Chris   February 23, 2018  
After a few years of offering cordless outdoor power equipment, DeWalt has announced that they will finally be offering a 40V Brushless Mower as an option for professional landscapers, and a second 2x20V MAX mower will also be available for Contractors and DIY'ers.
DeWalt already has cordless blowers, cordless string trimmers, a 60V Flexvolt Chainsaw and a 40V hedge trimmer, so it only makes sense that the cordless mowers would be next.
Back when DeWalt announced their line of Flexvolt OPE (outdoor power equipment), I figured that their 40V line would stick around for professional landscapers. It appears that with the news of this new 40V MAX Brushless Mower (DCMW290), I was correct.
However, even though the 2x20V MAX Brushless Mower (DCMW220) is compatible with DeWalt Flexvolt batteries, it will be running at 40V MAX (2x20V MAX) and not the 60V MAX option offed by Flexvolt batteries. This not only makes the mower more accessible to consumers who already own DeWalt 20V MAX tools, it would allow DeWalt to use the same parts for both battery platforms.
To deliver consistent cutting performance, both the 2x20V MAX and 40V MAX Cordless Mowers feature high-efficiency brushless motors. They can mulch, bag, or rear discharge grass clippings. and they offer a folding handle for compact storage, and front deck and rear deck carrying handles for easy transportation.
Unlike most cordless mowers on the market, these mowers feature a 20" metal deck that offers a larger cut path. The metal deck also ensures that the mower can handle being jostled around during transport.
The 2x20V MAX Brushless Mower will come kitted with two DeWalt 20V MAX 5.0Ah Lithium Ion Batteries (DCB205) and will be available in early 2018 for $399 MSRP (DCMW220P2). - ACME Tools  - Amazon
The 40V MAX Brushless Mower will come kitted with one DeWalt 40V MAX 6.0Ah Lithium Ion Battery (DCB406) and will be available for $399 MSRP (DCMW290H1). - Amazon
A bare-tool option will also be available for $299 MSRP (DCMW290B).
687

views
February 23, 2018
-
00:48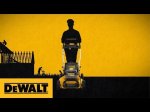 DEWALT 2x 20V MAX* 3-IN-1 Cordless Lawn Mower (DCMW220P2)
The 2x 20V MAX* DEWALT 3-in-1 Cordless Lawn Mower is powered by two 20V MAX* batteries to deliver 2x the voltage. The high-output brushless motor delivers powerful performance and increases torque in high overgrowth. The lawn mower's 3-in-1 capability allows for mulching, bagging, or rear clipping discharge. Check out the DEWALT 2X20 Lawn Mower: http://www.dewalt.com/products/power-tools/outdoor-power-equipment/2x-20v-max-dewalt-3in1-cordless-lawn-mower-2-x-50-ah/dcmw220p2
DeWALT
•
outdoor power equipment
•
40V Max
•
20V Max
•
2x20V Max
•
lawn mower
•
cordless mower
•
FLEXVOLT
•
DCMW220P2
•
DCMW290H1
•
DCMW290B