14 results - showing 1 - 10  
Hot Deals
Chris   May 20, 2014  
0
0
If you are subscribed to the HomeDepot PRO newsletter you are probably used to them sending you a lot a mail with hardly any value in them; but every once in a great while they have a coupon or sale in them that makes it all worth it. Yesterday's email was one of the rare gems, announcing an online sale on select Milwaukee Tools, Ridgid tools, Pnuematic compressors and nailers, and more. And this isn't just a regular sale, the saving on some of the items is big. An 18-Volt Milwaukee Hammer...
Hot Deals
Chris   January 15, 2014  
0
1
If you are in the market for both a 12-inch miter saw and a miter saw stand, HomeDepot has quite the deal for you. For a limited time they have paired up the Ridgid MS1290LZA Sliding Compound Miter Saw w/ Laser and the AC9945 Miter Saw Utility Vehicle (MSUV) stand for only $499. The saw regularly sells for $499 and the MSUV normally sells for $199. A savings of $199 isn't bad.
Tool Blog
Chris   January 13, 2014  
0
2
Ridgid has announced that they are coming out with a new LM-400 Advanced Laser Measurer that uses Bluetooth technology to transmit measurements directly your smartphone or tablet. Using their free app you can add the measurements directly to a photo or create a floor plan.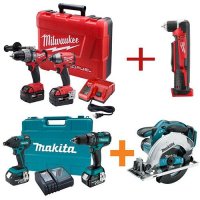 Hot Deals
Chris   November 07, 2013  
0
1
A reader sent in a tip about some sweet Free Bonus Tool promotions (with purchase of select Cordless Combo Kits) going on at HomeDepot. Initially we thought the promotion only applied to Makita and Milwaukee Tools, but it turns out there are DeWalt, Ridgid, Ryobi and Bosch deals as well.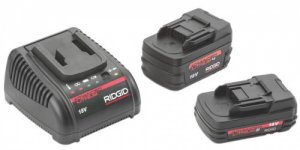 News
Chris   April 16, 2013  
0
1
Ridgid has announced their next generation of 18-volt lithium-ion cordless tool batteries in 2.0Ah and 4.0Ah, and promise improved performance, longer runs times and other advancements over previous batteries.
News
Chris   January 04, 2013  
0
1
Ridgid has introduced the 238-P Powered Soil Pipe Cutter as a way to make cutting soil pipe easier in tight or hard to reach spaces where a typical soil pipe cutter would be difficult or impossible to use.
News
Chris   April 23, 2012  
0
0
The JobMax is a tool that Ridgid makes that features a corded or cordless body that can accept interchangeable heads. The System has been out for a while now, with improvements and attachments coming along the way. Now it appears the next step for the JobMax system is to go pneumatic.
Hot Deals
Chris   January 18, 2012  
0
1
Ridgid's Trim router is a pretty good deal at around 100 bucks and the user reviews seem to back it up, but what if you could get an even better deal? Well of course this is a Hot Deal article, so a better deal does in fact exist. Home Depot is currently selling the Ridgid Trim Router for only $99, but it also includes a FREE bonus Ridgid 1/4-sheet sander; the sander alone sells for just under $50. The reviews on the sander do not seem to be as good as the reviews on the router, buy hey, you...
News
Chris   November 21, 2011  
0
0
There have been a few small portable table saws on the market over the years, but DeWALT started a whole new table saw class with their DW745 Compact Table Saw. Following shortly after DW, with a saw of their very own, Ridgid came out with the R4516 Compact Table Saw, though it's life was short lived. But now after a few years, it looks like the time for the Ridgid R4516 has come again.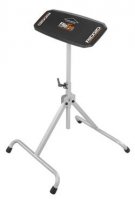 News
Chris   November 07, 2011  
0
7
A good roller stand is must-have for anyone working with long or wide materials, and while the Ridgid Flip Top stand doesn't exactly 'roll', it has a unique design and some great features that make it one of the best portable out-feed stands I have used. Because of the features offered in the Ridgid Flip Top Stand, it was an obvious choice to make it a Tool-Rank Pick.
14 results - showing 1 - 10