Tool Blog
Chris   April 08, 2015  
0
2
Stanley announced the introduction of their newest LDM (laser distance measurer), model STHT77343 aka TLM99s, with Bluetooth connectivity. It is a powerful LDM in its own right, but combined with the App, it can quickly turn measurements into a customizable floor plan.
Tool Blog
Chris   December 09, 2014  
1
1
Doing complex layouts and measuring on walls or ceilings can be a real pain, especially since you have gravity working against you every step of the way. Measure-It is like tape that fights against gravity thanks to its adhesive back, and you can use it just like a measurer thanks to its markings on the front. I guess you could call it a tape measure.
Tool Blog
Chris   August 26, 2014  
1
1
Some people have already turned to laser measurers to be replacements for their tape measurers, but for others the high cost might be preventing them from making the switch. To get you to finally make the switch Bosch has come out with the Bosch GLM 15 Laser Measurer - a simple, accurate, low cost laser measurer.
Tool Blog
Chris   April 10, 2014  
1
1
Tape-Ease is a new product that wants to eliminate the problem of your tape measure coming unhooked when you are trying to measure the lengths of jobsite materials. It is a rubber grip that slips onto your existing tape measure and gives it more hooking power.
News
Chris   February 06, 2014  
0
1
Let's face it, not all contractors are technology wizards, which might prevent them from using tools that could be beneficial their business. In an effort to bring useful technology to everyone, Milwaukee has come out with new laser distance measurers that they say are the easiest to use in their class.
Tool Blog
Chris   January 13, 2014  
0
2
Ridgid has announced that they are coming out with a new LM-400 Advanced Laser Measurer that uses Bluetooth technology to transmit measurements directly your smartphone or tablet. Using their free app you can add the measurements directly to a photo or create a floor plan.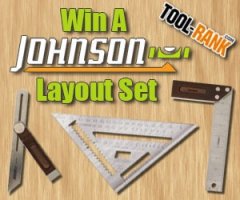 Tool-Rank
Chris   April 01, 2013  
0
1
Contest Information
Contest Ends
April 30, 2013
There is something common we all need when working on any type of project, and that is good layout and marking tools. But one tool is not good enough for every task. This month Tool-Rank has teamed up with Johnson Level to give away three of their newest layout squares so that you are ready to tackle your projects.
News
Chris   March 13, 2013  
1
1
As Gary pointed out the other day in his Quick Tip, a simple ruler can come in really handy on the jobsite and you probably have an old one from a combination square lying around somewhere. But is the Paolini Pocket Rule from Woodpeckers better solution?
News
Chris   March 08, 2013  
0
1
Stanley Tools is celebrating the 50th anniversary of what is probably the most popular tape measure in the US, the Stanley PowerLock. To commemorate the anniversary, Stanley will be releasing a series of five limited edition tape measurers.
Editorial
Gary   March 07, 2013  
0
3
As a finish carpenter, I have an apron pocket assigned for a small combination square. (In addition to whatever else finds its way in that pocket) But I notice that after tightening the ruler in the base over and over again, inevitably the day comes when the ruler no longer tightens in the base and it's time for a new combo square. So it was that as I was digging around in my tool box, I found a couple of loose steel rulers. Now I'm not one to throw something out if it has a purpose, but what can...