News
Chris   May 02, 2012  
0
1
We have seen circular saws used as table saw replacements with the Eurekazone tracksaw system, and now there is a new system from PUPS (Portable Universal Power Station) that can turn a circular saw to an accurate miter saw.
Manufacturer News
Chris   March 09, 2017  
0
1
Craftsman has been in trouble for a number of years, I think mostly due to the fact that Sears itself has been having problems. Today, though, Stanley Black & Decker completed their purchase of the Craftsman brand from Sears Holdings Corporation, and Craftsman will have a second chance as a maker of American tools.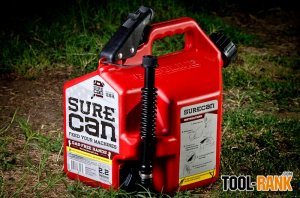 Reviews
Chris   October 02, 2015  
0
5
Let me tell you a little bit about the SureCan, the best gas can I have ever used. It is a gas can that doesn't leak and doesn't spill, even when you are trying to use a full, heavy, gas can to fill a small chainsaw tank. But before I can get to the SureCan review, I need to give you a little back history on how the EPA outlawed the common gas can to cut down on lost gas through spilling and venting, only to create a different lost gas problem, which then leads to the invention of...
Tool Blog
Chris   April 23, 2015  
3
0
The problem with levels is that if you want to do the job right, you really need to have a level that fits the size of your project. For door installers this might be a 78" and a 32" level, and for cabinet installers this might be a 24" and a 48". The Mosely Infinity Level wants to solve this problem with their modular system, where level sections can connect to form a level from 12" up to infinity.
Tool Blog
Chris   October 29, 2014  
0
4
Known for their high quality pliers, which have been made in America since 1886, Channellock has announced that they are coming out with a new line of high quality screwdrivers that meet the needs of professionals. Best of all, they too will be made in the USA and assembled in their Meadville, PA factory.
Tool Blog
Chris   May 15, 2014  
0
1
I don't write about knives a whole lot, but I can't pass up on an opportunity to write about a USA made knife, where 25% of the profits go directly to charities that assist veterans and their families. The fact that it looks cool also helps.
Tool Blog
Chris   May 08, 2014  
1
1
When regular metal wrenches are too heavy for you, CarbonLite wrenches might be the answer. Made with 25+ individual layers of resin impregnated carbon fiber cloth, a set of 5 CarbonLite wrenches weighs in at only 6.7 oz.
Tool Blog
Chris   April 17, 2014  
1
1
Klein Tools is expanding their insulated hand tools line with new electrician's tools with "slimmer, sleeker profiles", which have been certified by VDE in Germany.  These "made in the USA" tools feature a three-part insulation and have been tested to 10,000V and rated at 1,000V.
Tool Blog
Chris   April 10, 2014  
1
1
Tape-Ease is a new product that wants to eliminate the problem of your tape measure coming unhooked when you are trying to measure the lengths of jobsite materials. It is a rubber grip that slips onto your existing tape measure and gives it more hooking power.
Reviews
Chris   March 05, 2014  
1
3
Studpop is a new stud finder design that uses a magnet to locate the studs in your walls. Using magnets to find studs is nothing new, not only have I been using this method for years, but it is also my method of choice. Typical magnetic stud finders are not perfect though, but Studpop seems to have found the solution.