News
Chris   July 25, 2013  
1
1
I have always looked at the Festool MFT (Multi-Function Table) as great little work table, but not practical for jobsite use. I just never liked the idea of having to carry it around on the jobsite along with all of my other tools. But Timothy Wilmots' modified MFTC (Multi-Function Tool Cart) looks like an ideal way to transport both the MFT and your tools.
Tool Blog
Chris   September 29, 2016  
1
1
I don't know what it is about LED lights, but I am kind of obsessed with them, and when I tell you I am excited about the new SysLite DUO LED Work Light from Festool, I mean it. A lot of this excitements has to do with the insane amount of light it can put out.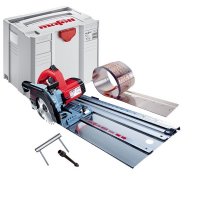 Tool Blog
Chris   August 17, 2016  
0
1
Top of the line—Made in Germany—Mafell tools are now available for sale at Toolnut, which I believe is only the second store to sell the brand in the US. If you thought Festool was expensive, you don't want to know how much Mafell tools cost; or maybe you do, when you see how cool some of them are.
Tool Blog
Chris   February 24, 2015  
0
3
This March Festool will be coming out with their new Conturo KA 65 Edge Bander, a portable and simple, yet versatile edge bander system. Where typical edge banders can be quite expensive and limit you to only edge banding straight surfaces, the Festool Conturo KA 65 promises to do a lot more, for less.
Gadgets
Chris   August 13, 2014  
1
1
Festool has a new tool accessory that at first sight looks like a gimmick, but it turns out it might be more useful than you think. The new Festool CT Wings is an add-on that turns your dust extractor into an expensive, but useful, third arm.
Tool Blog
Chris   June 13, 2014  
0
1
We have seen Festool Systainers modified to suit the different needs of its users, including being turned into a jobsite radio, or another jobsite radio, and I have even seen one turned into an air compressor housing. But just like what Festool did with their Systainer First Aid Kit, they have come out with their own Limited Edition Insulated Systainer Modification.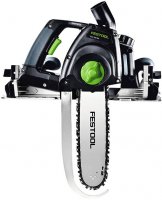 News
Chris   January 31, 2014  
1
1
If you like the idea of the Festool Track Saw, but it just doesn't have a large enough cutting capacity for you, the Festool Universal Sword Saw might be the tool for you. Available in Europe, the Festool Sword is fancy track-chainsaw that has a total cutting capacity of 7-7/8-inch (200mm).
News
Chris   December 04, 2013  
1
1
Since many of us already use our toolboxes as make-shift worktables, Festool went ahead and built a miniature worktable right into the top of a SYS-1 sized Systainer. With it, you can be sure to always have a workbench to go along with the rest of your tools.
Tool Blog
Chris   August 16, 2013  
1
1
How do you make the popular Festool MFT even better than it already is? You give it a bunch of accessories. Lee Valley has put together a Veritas bench dog kit that turns the MFT into the ultimate work table. And if you don't have an MFT, they give you the drill bit to make your own.
News
Chris   August 01, 2013  
2
0
The Festool Carvex Jigsaw was first introduced to North America back in March of 2011. It had a ton of really nice features, but the feature that caught my attention was the LED strobe light that could visually freeze the movement of the jigsaw blade. Sadly, about a month after it was announced, Festool pulled the Carvex and sent out a letter stating "...Late round testing in certain applications specific to North America has demonstrated that the current design does not meet the exacting standards that we demand of ourselves, and that our customers have come to expect..." ...