Manufacturer News
Chris   April 26, 2011  
0
0
Maybe fearing the same kind of backlash after users complained about the Kapex when it was introduced to N.A., Festool has suddenly announced that they will not be releasing their Carvex Jigsaw on June 1st. We have no clue what the issues with the jigsaw could be or when we will see the strobing jigsaw again, but it must have been serious enough to cause Festool to pull it and not indicate when it will be reintroduced. This is in no way good news for the company, but it does show that they stand for quality....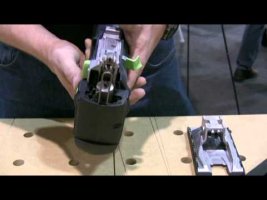 News
Chris   April 19, 2011  
1
0
The Festool Carvex is probably one of the coolest tools Festool has announced since their Kapex miter saw, and Tools of the Trade has a video that goes into detail about the new jigsaw, how it functions, and the available accessory options. The video is from the JLC Live event, and TOTT has more videos from the same event that you would be a fool not to check out, including videos from Bosch, and Blaklader. Tools of The Trade
News
Chris   April 11, 2011  
1
1
Ultra compact drills are on everyone's wish list and Festool now has their fans covered with their very own 10.8-volt. Their new CXS drill has a special design that is said to offer better ergonomics and more comfort. Most other ultra compact drills use a battery-in-handle design because there is really no other place to put the battery. Festool chose to go with a D-handle design similar to their other drills, and moved the battery to the bottom of the drill. This allowed Festool to design the handle around comfort instead of the battery, and it also gave the...
News
Chris   March 31, 2011  
2
0
You have to hand to those German engineers over at Festool, they have added one of the coolest features ever to their new jigsaws coming out in June. The new Festool Carvex jigsaws use the power of stroboscopic lights to visually freeze the movement of the blade to make seeing where you are cutting super easy. Normally you would have to start cutting to see where the front of the blade is, and this can cause issues when you need accuracy. If freezing time wasn't cool enough, Festool also brings a tool-less interchangeable base...
News
Chris   March 23, 2011  
0
0
OK not really, but they are offering a limited edition Festool first aid kit. Every contractor should carry a first aid kit and it also happens to be the law, so you might as well be medically prepared in style. The kit contains all of the common supplies required for emergency first aid, and has been certified to be ANSI/OSHA compliant. The important stuff is all housed in a Systainer 1, complete with red and white first aid emblem latches; too bad Festool didn't use the new T-Loc Systainer. Contents listed below. One question...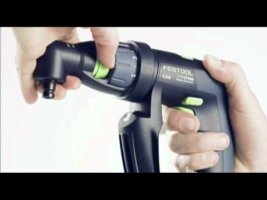 News
Chris   February 10, 2011  
2
0
Festool posted a teaser video on youtube of their new CXS Ultra Compact Cordless Lithium-ion Drill. The drill is expected to be released this May (the month of my birth *hint hint*) and will be powered by a 10.8 volt 1.3Ah battery that can be charged in 20 minutes. Festool didn't share very much in the way of specs, but the dill is already for sale in Europe and specs are probably the same. The CXS has a 2-speed transmission that gives us speeds at 0-400/0-1200 RPMs. The drill can be purchased as a standalone kit with a hex...
News
Chris   February 03, 2011  
0
0
Many tool stores have a few of their tools out of the box and on display so you can get a better look and feel, but how much information can you really gather from a tool that is tethered to the display case? It is when you actually get to use the tool that you really begin to understand what it is capable of. The idea behind the Festool Test Drive Center is simple enough; provide access to the tools, and let people use them. WoodWerks wants people to have usable access to the tools so...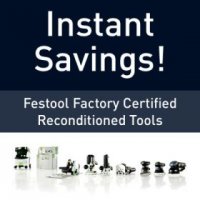 Hot Deals
Chris   January 30, 2011  
0
0
Festool rarely has sales, and never sells reconditioned tools; but that is all about to change next month. Starting in February, and it looks like only in February, Festool will be selling off their supply of reconditioned tools. Reconditioned tools will either have a 10% discount or 20% depending on the condition of the tool; but you should be happy to know that all tools have been inspected by Festool service technicians and meet Festool's standards. All tools will carry a one year limited warranty, and will be covered by a 30-day guarantee. Reconditioned tools include: ...

News
Chris   December 21, 2010  
0
0
If you are a fan of the Systainer stackable storage system, you will probably be happy to know that Tanos has given the Systainer a much needed update. The new T-Loc Systainer not only ditches the old bland look for something much more stylish, but the hardware sees a huge change with a completely re-engineered latch system. What once required 4 latches to mount one box to another, now only requires one. The T-Loc makes use of two hooks to keep the back of the boxes together, and a single locking knob to latch the front....
News
Chris   March 22, 2010  
0
0
I talked about the new Dust Deputy Festool Kit back in February. If you remember, I questioned whether it was really worth it to buy the kit, or to save a bit of money and make your own using a Systainer.