Tool Contests & Giveaways

We love to give away free tools, and I am sure you love to get free tools. Here you will find a list of all tool giveaways. You can call them contests, drawings, or raffles, but one thing is for sure... They are all FREE. Get in on the free tool action
Visit each contest page to find out the details.
Good Luck
Chris   August 21, 2018  
1
1
Contest Information
Contest Ends
September 14, 2018
Bosch really want's to get the word out about their new generation of Core batteries and how they pair with their new and existing cordless tools. So much so, they are running a huge giveaway where they will be giving away 2,000 cordless tools with the new Core 6.3Ah battery. Each prize retails for around $300, which puts the total combined retail value of the giveaway at around $600,000. Yeah, it is insane.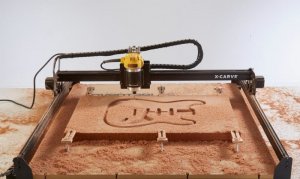 Contest Information
Contest Ends
March 31, 2018
With online marketplaces like Etsy and Amazon Handmade, it is easier than ever for a creative person to take an idea that they have had, turn it into a product, and then sell it. The hurdle for many, though, might be how they would manufacture their product. Inventables wants to give your small business a head start by giving you the opportunity to win one of their X-Carve Business Bundle 3D carving machines.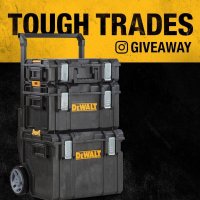 Chris   December 04, 2017  
0
1
Contest Information
Contest Ends
December 14, 2017
TOWSON, MD (December 4, 2017) – DEWALT® celebrates trades this holiday season. Starting today, DEWALT will give away tools for a variety of trades on its DEWALT Instagram page. The #ToughTrades giveaway is dedicated to the people who are employed in woodworking, electrical and plumbing, and mechanical industries, concrete and masonry professionals, metalworkers, and general contractors. DEWALT is committed to providing these professionals with products that deliver the performance they need to get tough jobs done each and every day.
Contest Information
Contest Ends
June 30, 2017
It is pretty common to find yourself working on a jobsite with less than ideal lighting conditions. Even when supplementing the light you will often find yourself working within the shadows. To lessen your chances of making mistakes, Empire Level has come out with a new line of lighted levels. They are so eager to show off their goods they are giving a new em95.10 TRUE BLUE UltraView Magnetic Torpedo Level to two lucky winners.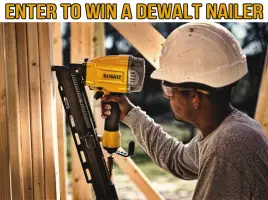 Chris   September 01, 2016  
0
1
Contest Information
Contest Ends
September 30, 2016
Tool-Rank is happy to be able to team up with DeWalt to giveaway away a brand new DeWalt Pneumatic Nailer. Best of all, the winner gets to choose which nailer they will receive. If you do a lot of general construction, the DeWalt 21° Plastic Collated Framing Nailer (DWF83PL) might be right for you. If you see a new roofing job in your future, the DeWalt Coil Roofing Nailer (DW45RN) might be your choice. Both Nailers are being provided by DeWalt, so it would be nice if you sent them a tweet or comment letting them know that you...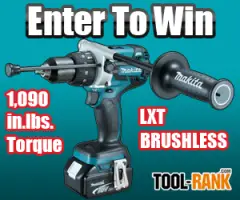 Chris   October 01, 2014  
0
1
Contest Information
Contest Ends
October 31, 2014
Tool-Rank is happy to be teaming up with Makita this month to give away their brand new 18V Brushless Hammer Drill/Driver. The Makita XPH07 delivers the most torque in its class at a jaw-dropping 1,090 inch pounds. Not only is it powerful, but Makita packed in all kinds of fancy technology that ensures that you get the most runtime out of your tool. To learn more about the XPH07 be sure to read my initial write-up on the new hammer drill.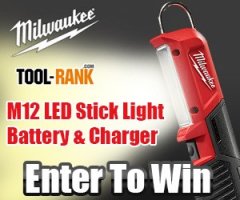 Chris   August 01, 2014  
0
1
Contest Information
Contest Ends
August 31, 2014
If you have read my Milwaukee M12 LED Stick Light Review you would know that I am a huge fan of the cordless LED light. So when I had an opening for a giveaway I knew I had to try and team up with Milwaukee to give one of them away. Milwaukee Tool happily agreed to my request and also decided to throw in a battery and a charger.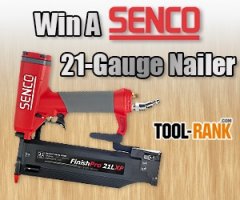 Contest Information
Contest Ends
June 30, 2014
It's giveaway time. This month Tool-Rank has teamed up with Senco to giveaway a brand new product, their new 21-gauge FinishPro Nailer. When an 18-gauge nailer is too big, and a 23-gauge is too small, Senco says their new 21-gauge nailer is just right.
It's the first of the month again and you know what that means; it's time for another amazingly awesome Tool-Rank Giveaway. Joining us this month is Bosch Tools, and they are graciously providing their new HDS182-01L 18V EC Brushless Compact Tough ½-Inch Drill/Driver as the prize for one lucky winner.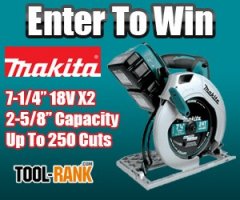 Contest Information
Contest Ends
April 20, 2014
I am excited to announce that Makita has joined in on the giveaway fun and is offering up their brand new 18V X2 (36-volt) 7-1/4-inch Cordless Circular Saw for this month's giveaway. This saw gives you the power of a corded saw with the portability of a cordless by using two 18V batteries to give you a total of 36-volts of power. The added power that this saw offers also allows it to use a standard 7-1/4-inch saw blade rather than a typical 6 or 6-1/2-inch blade.