Tool Contests & Giveaways

We love to give away free tools, and I am sure you love to get free tools. Here you will find a list of all tool giveaways. You can call them contests, drawings, or raffles, but one thing is for sure... They are all FREE. Get in on the free tool action
Visit each contest page to find out the details.
Good Luck
ChannelLock has kicked off a great way to celebrate the USA and the great tools made in the USA, with their Red White & ChannelLock Blue Sweepstakes. From now until the 4th of July ChannelLock will be giving away a 5-piece ChannelLock Tool Roll every other week to one winner. I am sure you will be able to find tons on uses for the tools, as I have with the latest ChannelLock 6" V Jaw Pliers. You can enter the contest by filling out the online entry form. The contest is open...
Giveaway Ended Congrats to ToolRank user diverjc, the winner of the $250 Amazon gift card.   It is time for the third Tool-Rank.com giveaway, and I have made the giveaway the easiest yet. You only have to add one review from this year, and be a registered member in order to be eligible. This means that if you are a registered member, and have already added a review this year, you are already entered....
We all know Festool tools are expensive and priced out of the reach of many users. Granted they are designed as high end tools that should last a lifetime, it is hard for many people to justify the initial wallet shock. One of the main reasons people decide to give Festool a chance is because of the great reviews their tools receive, as well as the free advertising known as word of mouth. Another great way to get some cheap advertising is by running a contest. Festool is sponsoring a contest over...
Chris   February 14, 2010  
0
0
Here is another simple to enter Twitter giveaway for you guys and gals. Sears is giving away a great starter package for any woodworker, homeowner or DIYer. The total value of the prize is worth over $700 and consists of: One (1) Craftsman 10" Laser Miter Saw (#21236) One (1) Craftsman Digital Miter Gauge (#29939) One (1) Craftsman 30 pc Router Bit Set (#26366) One (1) Craftsman Bar Clamp (#31484) One (1) Craftsman Base Plunge Router (#17540) One (1) Craftsman 10" Table...
Chris   February 11, 2010  
0
0
Tools Of The Trade magazine, Lenox Tools, and a number of other sponsors have teamed up to offer the Site Commander Ultimate Work Truck to one lucky winner. The Site Commander is more then just a tool hauling truck; it includes almost everything you would need to be a mobile office, including a total of three computers. My favorite part of the truck is the tricked out on-board Segway X2, and the crazy built in computer work stations. The total prize is valued at over $100,000 because not only are you getting...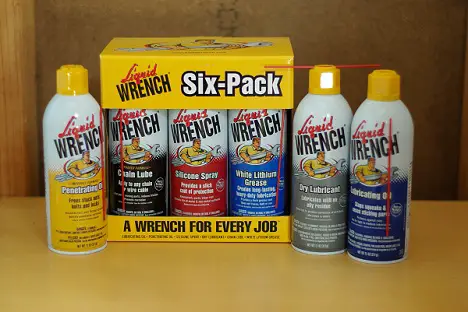 Chris   January 07, 2010  
0
0
Have I convinced you to use twitter yet? Probably not, but all the contests and giveaways that can be found on twitter might make it hard to pass up. Just recently I won a 6 pack of Liquid Wrench sprays by answering a simple question during one of the Liquid Wrench giveaways, and in my last post I talked about the contest Craftsman is running. Liquid Wrench, like a number of other companies, has turned to Twitter to help get free/cheap advertising. One of the easiest ways to get your name out...
Chris   January 05, 2010  
0
0
I was out of commission yesterday due to a headache that would not go away, but today I am back and I bring news of a snow blower giveaway. Craftsman is going to be giving away one snow blower to a single user who will be randomly selected from all eligible entries. Unlike most giveaways where you might win a pre-selected prize, in this giveaway you get to choose which model snow blower you would like to win (with a retail value up to $1,130) . You can find your desired snow...
Chris   October 11, 2009  
0
0
Want some free tools? Of course you do. Well, every Monday, Wednesday, and Friday until November 4th, Cabinet Makers Suipply will be giving away free FastCap tools. Now you can win those cool FastCap Pocket Chisels we talked about in the past. Rules Must be located in the USA. Follow @cabinetsupply on Twitter (http://twitter.com/cabinetsupply) Retweet the tweet made at 8AM(Pacific Time) from @CabinetSupply to enter to win that product. Check the list of @fastcap products we are giving away (below)...
Chris   September 24, 2009  
0
0
The Lenox Hackman cut an entire double decker bus in half recently in Fradly, UK using a Lenox T2 blade. If you can guess how long it took the Hackman to cut through the bus, you could win some great gear from Lenox, including a 9 piece Plumbing/Electrician kit, a HACKMAN World Tour T-shirt and a Koozie. All you have to do is give your answer to Lenox on their Facebook page in the HH:MM:SS time format. Contest ends September 30th, 2009. Good Luck. Contest details
Chris   August 07, 2009  
0
0
Remember the FastCap folding chisels? Fastcap is now offering a complete kit with all four chisels, two putty knives, and a 300/600 grit sharpener. The kit even includes a storage case for an extra line of protection and organization. You can pick up the kit for around $80 online or you can win a set for free. FastCap is giving away one Pocket Chisel Kit to a person chosen at random from all of their Twitter followers and Facebook Fans. So all you have to do is head over to one or...