7 results - showing 1 - 7  
Tool Blog
Chris   April 14, 2015  
0
1
Channellock has come out with a brand new line of Xtra Slim Jaw Adjustable Wrenches, which have been designed to fit in places where normal adjustable wrench just can't go.  Available in both 6" and 8" sizes, the wrenches have been designed to be durable despite being 40 percent thinner than a regular wrench of the same size.
Tool Blog
Chris   October 29, 2014  
0
4
Known for their high quality pliers, which have been made in America since 1886, Channellock has announced that they are coming out with a new line of high quality screwdrivers that meet the needs of professionals. Best of all, they too will be made in the USA and assembled in their Meadville, PA factory.
Manufacturer News
Chris   June 18, 2012  
0
0
You have probably seen those Channellock pliers with the red and blue handles on them; well, those tools are part of Channellock's Code Blue line. They never seemed to be advertised as much as their classic line, and I guess that was because the handle grips were not made here in the USA. That was, until now.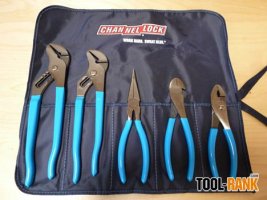 Reviews
Chris   July 27, 2011  
0
0
Channellock has put together a great general purpose tool roll set, and in my opinion it is the best tool set they offer. The Tool Roll No. 3 Gift Set includes the: 430 tongue & groove plier, 420 tongue & groove plier, 337 cutting plier, 3017 long nose plier, 526 slip joint plier. These 5 tools are a great addition to a DIYer's small collection of tools, and can be used for many of the most common DIY tasks. This is not some cheap tool set either, and should last a lifetime. Channellock sent me this...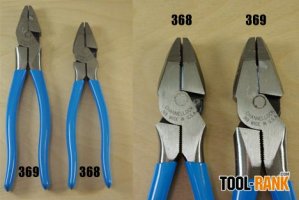 Reviews
Chris   April 15, 2011  
0
0
BrandChannellock Model #368 Buy Amazon Not too long ago I review the ChannelLock 9.5" 369 Lineman Pliers, but today I have the new smaller 368 8" version. As I mentioned in my previous review of the 369 Pliers, I am not a professional electrician, and any electrical work that I do is on a small scale. It is because my electrical work is DIY that I prefer the smaller ChannelLock 368's.I simply do not need the added cutting power that the 9.5" version offers. Sacrificing a...
News
Chris   March 17, 2011  
0
1
It is no surprise that many, if not most of the tools sold in stores today are knockoffs that are made in China. But it might surprise you to learn that for just a few dollars more you can get the originals that all of these cheap tools are copying. Original Estwing 16oz Hammer - $20 (made in USA) - Amazon ($27)Name brand Chinese copy - $17 Original Shark Corp. 10-inch Prybar - $17 (made in Japan) - AmazonName brand Chinese copy - $15 Spring Tools Hammer-less Nailsets - $10...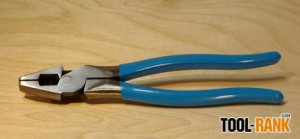 Reviews
Chris   November 12, 2010  
0
0
A while back Channellock sent over a pair of their 369 lineman pliers and I had the pleasure of putting this tool to the test. Now I am not an electrician, which the tool was originally designed for, but who couldn't use a good set of pliers to help out with life's daily problems. The pivoting action on the pliers was really smooth and a tell tail sign that these are quality made. Channellock recently updated these pliers by reducing the size of the pivot. This change allowed them to move the point closer...
7 results - showing 1 - 7