15 results - showing 1 - 10  
Tool Blog
Chris   September 17, 2014  
2
4
In what I consider to be surprising news, today Dremel announced that it will be coming out with their own 3D Printer—the Dremel 3D Idea Builder, something they are claiming will be "the most user-friendly 3D printing experience on the market".  Along with the printer they are launching a growing library of 3D models of items you might find fun or useful around the house.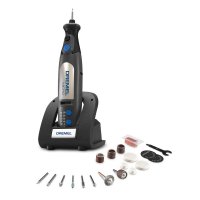 Tool Blog
Chris   July 31, 2014  
0
3
It looks like a new 8V Max Dremel is on its way onto store shelves.  The Dremel Micro 8050 Rotary Tool appears to be smaller than even the current 8V Max Dremel Rotary Tools, but still packs all the features we have come to expect and maybe even has some new ones.
News
Chris   September 27, 2013  
0
2
Oscillating tools are getting better and cheaper as the years go by, as is evidence by the new Dremel MM30 Multi-Max, which delivers 14% more cutting speed over the previous model (MM20) and it's expected to retail for only $99.
Hot Deals
Chris   May 31, 2013  
0
1
If you have been shopping around, looking at tools for Father's Day gifts, you might have noticed that there are some really good deals going on right now at Amazon. Usually you can find deals for only one brand at a time, but this time there are cash off deals from Bosch, DeWalt, Dremel, and more.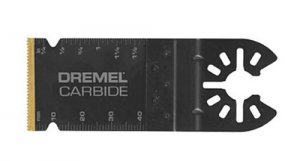 News
Chris   April 22, 2013  
0
2
Dremel has come out with a new carbide oscillating tool blade that they say is the first oscillating tool blade on the market with high performance carbide teeth. These are unlike previous carbide oscillating blades that feature only carbide grit.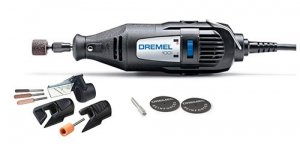 News
Chris   April 12, 2013  
0
1
To help you get ready for spring time lawn and garden work Dremel has come out with the new Dremel 100-LG Lawn and Garden tool sharpening kit. The kit includes everything needed to maintain and sharpen the most common lawn & garden tools.
News
Chris   October 03, 2012  
1
4
In the 40's Dremel came out with what was basically a powered coping or fret saw. This tool they called the Moto-Saw was pretty revolutionary for its time and they even advertised it as "more like magic than any tool you ever saw". Seventy plus years later Dremel has a new version of the Moto-Saw that still looks like a fancy powered fret saw but can also be mounted in a stand and used as a small scroll saw.
News
Chris   July 11, 2012  
0
2
Dremel has come out with a couple of new oscillating tool accessories that really expand the versatility of oscillating tools and should give you even more chances to use the Multi-Max on your projects. Both new accessories move away from the standard push blade model and instead cut when you pull the tool.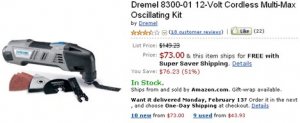 Hot Deals
Chris   February 10, 2012  
0
0
It is my opinion that if you are a professional carpenter, you should own both a corded and a cordless oscillation tool. The corded for when you need to do a lot of work, and a cordless for quick cuts and when you need to move around a lot. Unfortunately we cannot all afford to spend $300 to get both tools. Today only, Amazon has the cordless Dremel Multi-Max for only $73, and that is for a New kit. The kit includes a couple blades and a sanding pad to get you started, and also comes...
News
Chris   September 09, 2011  
0
0
Are you ready to throw out your hex-wrenches and go tool free? After I just finished my review of both Bosch multi-tools, Dremel comes out with news of their new tool-less MM40. This lack of a tool-less feature is one of complaints with the current Bosch offerings, but not because they require tools, only because they require tools that can easily be lost. The new MM40 from Dremel also gets a power boost up to 2.5 amps from 1.5amps. This puts the power rating up with the big boys, and offers a variable speed...
15 results - showing 1 - 10