Tool Contests & Giveaways

We love to give away free tools, and I am sure you love to get free tools. Here you will find a list of all tool giveaways. You can call them contests, drawings, or raffles, but one thing is for sure... They are all FREE. Get in on the free tool action
Visit each contest page to find out the details.
Good Luck
Contest Information
Contest Ends
March 25, 2013
Milwaukee is currently running a giveaway on their Facebook page where you can win a pair of their Redlithium batteries. They will be giving away a grand total of $5000 worth of batteries that will go to a number of lucky winners. And because we are awesome, Milwaukee has also given Tool-Rank readers a second chance at winning a set.
Chris   February 05, 2013  
1
2
Contest Information
Contest Ends
February 28, 2013
The Robert Bosch Tool Corporation and Ram Truck brand announced today at World Of Concrete trade show that they would be forming a strategic partnership. Together the two companies will jointly pursue sales and marketing opportunities in both markets that benefit both companies.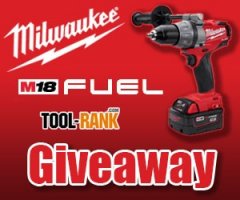 Chris   January 28, 2013  
0
1
Contest Information
Contest Ends
February 28, 2013
We took a little bit of time off from our giveaways over the holiday season, but we are back in the new year with a great new giveaway from Milwaukee Tool. Up for grabs this month is the Milwaukee 2603-22 high performance M18 Fuel brushless cordless Drill/Driver, a tool that features some of the latest in cordless tool technology. If you are looking for a powerhouse in a drill, this is it.
Chris   December 12, 2012  
0
1
Contest Information
Contest Ends
December 25, 2012
I seems like every year at this time all of the brands like to give stuff away for Christmas, and this year is no exception. Husky is doing one of the larger giveaways and is giving away a prize every day until Christmas.
Chris   October 01, 2012  
0
1
Contest Information
Contest Ends
October 31, 2012
If you do not own an impact driver you are missing out on one of the best inventions to become mainstream over the last decade. They are a God send to anyone who drives screws, and many who use an impact driver find it impossible to revert back to driving screws with a traditional powered drill/driver. To learn more, check out: What's the difference between a hammer drill and an impact driver? Bosch Tools was awesome enough to sponsor this month's giveaway and provide one of their NEW model IDS181-02 18-volt Impact Driver Kits, so that...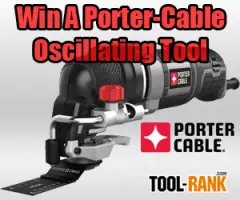 Chris   August 31, 2012  
0
1
Just a couple of days ago Porter-Cable announced their latest Oscillating Multi-Tool and now ToolRank has teamed up with them to give one of these bad boys away. This tool is barely hitting the store shelves and if you win you can be one of the first to own one.
When the power unexpectedly goes out due to the weather or a natural disaster, you realize pretty quickly if you are prepared or not. If you are not prepared and the power goes out at night, you are left scrambling for a flashlight, candles and a match, or any other source of light. Not only can your search for light in pitch black be difficult, but it can also be very dangerous. This month Tool-Rank has teamed up with Coast Portland to help you become more prepared for a power outage by giving away one of their...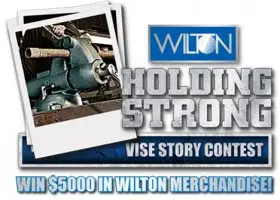 Contest Information
Contest Ends
September 14, 2012
It doesn't matter if you do woodworking, metalwork, or DIY home repair, one tool that you need to have in your shop is a heavy-duty vise; and when we think vise we think of Wilton. If you have a Wilton vise story, Wilton wants to hear about it. Your story and vise photo could win you $5000; but even of you don't win, Wilton will still give you one of their c-clamps (value $84). Wilton has been around for 71 years now, and there is probably a pretty good chance that you have used one of...
Chris   February 13, 2012  
0
0
Contest Information
Contest Ends
February 29, 2012
So now that you have entered to win some woodworking tools from Powermatic, your next step is to enter to win some goodies from their sister company Jet; Walter Meier must be in a giving mood. Up for grabs in the Jet sweepstakes is a 16-32 Plus Drum sander that can quickly sand smooth the surface of your materials, and a Vortex Cone Duct Collector to make sure all that dust from the drum sander has a place to go. The prize package is valued at $2,182.
Chris   February 13, 2012  
0
0
Contest Information
Contest Ends
February 29, 2012
Want to do some woodworking and look cool during the process? The new Onyx limited edition series of tools from Powermatic can help you out with both. The black and gold color scheme on the Onyx tools has us thinking Powermatic should just make it their default color choice. Most of the time limited edition tools will end up costing you big, but you have a chance to win a Powermatic 14-inch Bandsaw and a PM2800 Drill Press valued at $2,804.