Tool Blog
DeWalt Expands ToughSystem With Rugged Cooler and Sealed Drawer
DeWalt Expands ToughSystem With Rugged Cooler and Sealed Drawer
https://www.tool-rank.com/media/listing/photos/thumbnail/300x300s/76/45/ce/DWST08404202-61-1530256468.jpg
Chris   June 29, 2018  
As I have mentioned numerous times in the past, I am a big fan of the modular DeWalt ToughSystem (be sure to read my review). It is what I use to organize and transport my tools to and from the jobsite. Even though I have my system configured just how I want it, I am always excited to see what new additions DeWalt makes to the modular system.  However, their latest additions are not really what I expected, a ToughSystem Ice-Cooler (DWST08404) and the new ToughSystem Waterseal Drawers (DWST08290).
One thing missing from the past drawer unit that is found on all of the other closed ToughSystem storage boxes is the weather-seal feature. As you have probably already guessed, the new ToughSystem Waterseal Drawers have been designed to address is. Though not as weatherproof as the lidded boxes, the drawers are IP54 rated for dust and water. This IP rating basically means it will be OK in a rainstorm, but not a flood. This should be enough to protect sensitive tools or electronic from direct exposure to rain or a dust storm.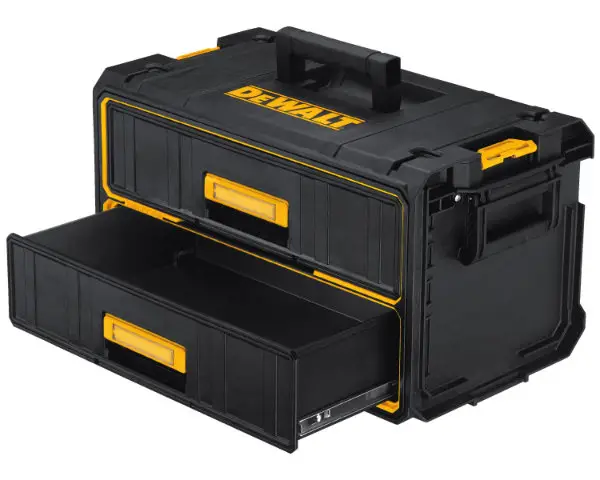 Like the previous drawer model, this one also utilizes ball-bearing slides. The dimensions list this model as being slightly taller than the previous version and it appears to be more aligned in size with the standard Large box. So even though the weather-seals take up extra space, it doesn't look like you are losing any drawer space. The new ToughSystem Waterseal Drawers will be available from $79.99 to $89.99 MSRP. - ACME Tools
I would have never guessed it, but the other new addition is the DeWalt ToughSystem Cooler. I really shouldn't be surprised considering rugged coolers seem to be the hot new thing these days.
With 27-quarts of storage space and an IP65 rating for protection against water and dust, the DeWalt ToughSystem Cooler will keep the harsh elements out, while keeping your beverages inside with up to 5 days of ice retention. Other features include two cup holders built right into the lid and a built-in bottle opener. The cooler is modular like all of the ToughSystem boxes, which means it can be stacked with other boxes and take advantage of the mobile cart, the storage rack system, or the van rack system. The new DeWalt ToughSystem Cooler will be available for $149.99 MSRP. - ACME Tools
DeWALT
•
DeWALT Tough System
•
Tough System
•
organization
•
cooler
•
tool storage
•
DWST08404
•
DWST08290