News
Chris   February 08, 2012  
0
18
Today DeWalt showed us that there are not messing around and they are willing to compete with the other brands to win you over. They were a little behind and had to play catch up with their 18-volt slide-style battery tools known to us as 20V Max, but it looks like they have kept their engineers busy to keep the 20V Max selection growing fast. It was back in June 2011 when DeWalt first introduced their 20V Max tool line and now, only 8 months later, they are expanding on their line with 8 new 20V tools. ...
News
Chris   January 27, 2012  
0
0
When I first saw the DeWalt ToughtSystem I knew right away that it was something that I wanted to try out on the job. I had already been looking for a better way to store and transport my tools on the job, and a modular system was high on the list. The thing that really hooked me on the ToughSystem was the way the boxes attach to the L-Cart Carrier, and that they can each be removed individuality. There was one problem with the boxes though, they were hard to find. Amazon was one...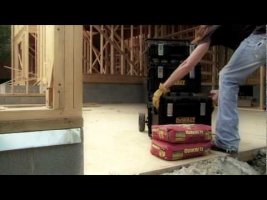 Editorial
Chris   October 04, 2011  
1
0
Where oh where could it be? The DeWalt ToughSystem was one of the products that really caught my eye back when DeWalt made their big product announcement in June. The system might not have anything new in terms of stackability compared to the Festool Systainers, or the Sortimo L-Boxx, but they had other features that, in my opinion, really put the ToughSystem boxes up a level. The other brands, as well as the DW ToughSystem, feature a lock-together stacking feature, but DeWalt was the first to engineer a transport system that did more then just carry boxes....
Manufacturer News
Chris   September 07, 2011  
0
0
Thought NiCad was dead? Guess again. We knew DeWalt planned to support their 18-volt line for years down the road, but I just assumed that meant their 18-volt lithium-ion line. It turns out that is not the case at all, because DeWalt has just announced the new DW059HK-2 1/2-inch Impact Wrench that uses good old 18-volt NiCad technology. This should be good news for people with a stock of 18-volt DW batteries, and don't feel it is time to upgrade. "The DW059HK-2 complements the other tools in our 18 volt system and...
Reviews
Chris   September 01, 2011  
0
0
I have never been a fan of folding utility knives. They always felts cheap, the mechanism that holds the blade in place seemed dangerous, and they were darn right uncomfortable to use. Their handiness was far outweighed by their design flaws. With all of the flaws in the Utility Folder class, could DeWalt's introduction of the DWHT10035 Folding Retractable Utility Knife do any better than the folders on the market today? DeWalt sent over the knife so I could find.
News
Chris   August 24, 2011  
0
0
DeWalt has just announced the launch of their new 3-beam line-laser (DW089K), and oh how I love to use lasers at work. They make leveling so easy that it is funny to even think about going back to using regular levels to mark long level lines across walls. I think the line-laser is one of the most invaluable tools on the jobsite, at least in my trade. The DW089K is not unlike other line-lasers on the market today, but it does have a rather handy added feature, a third laser line. This extra vertical line gives...
Reviews
Chris   August 02, 2011  
0
0
I was a bit skeptical when I first heard that DeWalt would be making hand tools. I figured the tools would just be re-branded Stanley tools, like the Bostitch hand tools were. How would a bunch of re-branded hand tools be interesting news for you to read? It wouldn't, but thankfully for all of us, the new DeWalt tools are not just a simple logo change. The DeWalt line of hand tools look like they were built upon Stanley models, but also improved upon. As a way to show the skeptics among us what they really...
News
Chris   June 21, 2011  
0
0
I am a fan of small lightweight air compressors and have been using a small 1-gallon for years now on the jobsite. So when I got news about a new 1-gallon from Porter-Cable, the excitement began to flow; that is until I realized that the new C1010 compressor from Porter-Cable is the same as the D55140 from DeWalt. Not that there is anything wrong with the DeWalt, it's just that the new compressor is not really new. The specification for both units are almost identical, with the C1010 coming it at 71 decibels, which...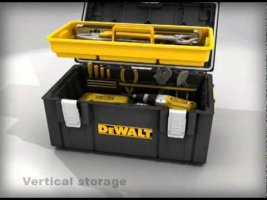 News
Chris   June 06, 2011  
1
0
I have been battling with the idea of purchasing a few Systainers so that I can use them with a hand truck to get my tools on and off the jobsite easier for a few years now, but the pricing always kept me away. Then out came the L-Boxx from Sortimo, and it popped into my mind as a possible solution. The L-Boxx then became the front runner when Bosch made them more readily available here in the States. However, now it looks like DeWalt's Tough System is the ideal storage/transport system for my needs. The Tough...
Manufacturer News
Chris   June 02, 2011  
0
0
I predicted DeWalt would be announcing their 20 Volt line of tools in June, and here we are, I was right, and I am still not a fan of calling 18V tools 20V Max, but this is a battle I cannot win. I always say that if you are going to buy a cordless tool, you are really buying into the whole manufacturers cordless system. Once you own one tool from a manufacturer you are more likely to stick with the same battery and charger, so you buy other tools. So when a manufacturers...