Tool Blog
Chris   February 19, 2016  
0
3
Let's face it, we can never get enough runtime out of our batteries. Every year the manufacturers pack in more cells, that hold more juice, and we still want more. The desire for more power was seemingly so strong for one DeWalt cordless tools user that he decided to Frankenstein together his own DeWalt 8.1Ah battery.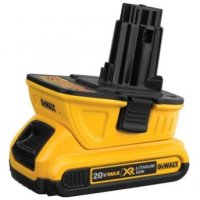 Tool Blog
Chris   September 16, 2015  
0
2
It will now be easier than ever for 18V DeWalt Cordless Tool users to find higher capacity batteries with lithium-ion technology, all thanks to DeWalt's new DCA1820 20V to 18V battery adaptor. The new battery adaptor will allow most of DeWalt's 18V Cordless Tools to function off of Lithium-ion battery's from the newer DeWalt 20V Max system.
Tool Blog
Chris   September 02, 2015  
1
1
It is easier than ever to find great cordless power tools no matter the brand, so to set your company apart from the rest you need to think outside the box. DeWalt may have done just that with their new line of Bluetooth enabled 20V MAX 2.0 Amp (DCB203BT) and 4.0 Amp (DCB204BT) lithium ion batteries. Of course, Bluetooth by itself is pointless, which is why DeWalt has introduced their Tool Connect App, which allows users to control their new batteries with their smartphone.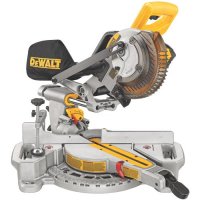 Tool Blog
Chris   May 01, 2015  
0
2
Oftentimes it can be a battle to find an empty power outlet on a busy jobsite, so it is probably a dream of many tradesman—not just myself—to be able to go completely cordless with their power tools. DeWalt is taking their users one step closer to this dream with the introduction of the new DCS361 20V Max 7-1/4 Inch Sliding Single-Bevel Miter Saw.
Tool Blog
Chris   April 07, 2015  
0
4
Made with professionals in mind, DeWalt has introduced its new Mechanics Tool Sets, featuring sockets, ratchets, drivers, wrenches and more. In addition, their new Mechanics Accessory Tool Sets allow pros to customize their tool platform with smaller modular tool cases that connect to build a custom tool platform.
Tool Blog
Chris   February 18, 2015  
1
2
DeWalt wants drywall carpenters to Get More Done, thanks to their new DCF620 20V Max Brushless Lithium Ion Drywall Screwgun with Extended Runtime battery packs. The combination, they say, is what professionals need to get the job done without the hassle of long extension cords.
Tool Blog
Chris   October 27, 2014  
0
6
Recently, at the GIE Expo, DeWalt announced that in March of 2015 they will be coming out with a new line of 40V Max Outdoor Power Tools. The Line will consist of both 4.0Ah and 6.0Ah 40V Max Brushless String Trimmers, Brushless Blowers and they will even have a Hedge Trimmer available.
Tool Blog
Chris   October 23, 2014  
0
1
With the availability of music streaming services for phones and the ability to take your music collection with you everywhere you go, people are turning away from traditional radio stations. To make sure you can enjoy the tunes on your phone while on the jobsite, DeWalt has come out with the new DCR006 Jobsite Bluetooth Speaker.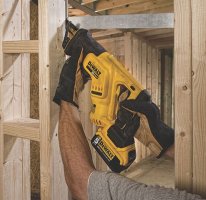 Tool Blog
Chris   September 25, 2014  
0
1
DeWalt is coming out with a new 20V Max cordless reciprocating saw that is more compact to allow remodelers, carpenters, plumbers, electricians, and the like to make controlled cuts in tight spaces such as between studs, or in crawl spaces. With reciprocating saws, sometimes smaller is better.
Tool Blog
Chris   August 28, 2014  
0
1
DeWalt has come out with a new line of air tools for professionals in the automotive industry. DeWalt says they have been engineered to meet the high-end performance standards demanded by tradesmen and they include features that ensure they can take as much as they can give.