Tool Blog
DeWalt Introduces New 40V MAX 6-Pack Charging Station
DeWalt Introduces New 40V MAX 6-Pack Charging Station
https://www.tool-rank.com/media/listing/photos/thumbnail/300x300s/38/9e/33/dewalt-DCB116-67-1477597715.jpg
Chris   October 27, 2016  
The decision for landscapers to switch out their outdoor power equipment from gas to cordless electric just got a bit easier thanks to the new 40V MAX 6-Pack Charging Station from DeWalt, which has been specifically made for DeWalt's line of cordless outdoor power equipment.
Landscapers contemplating ditching all of their noisy gas outdoor power equipment for quieter cordless equivalents might be concerned with how they are going to manage all the batteries they are going to require and how they are going to charge them. DeWalt's solution to this problem is their new 40V Max 6-Pack Charging Station (DCB116).
The DeWalt 6-Pack Charging Station (DCB116) can sequentially charge up to six 40V Max batteries, starting with the closest battery to a full charge, then automatically moving on to the next fullest, and so on until they are all charged. It can charge a 6.0Ah battery in only 45 minutes, and a 7.5Ah battery in under an hour. In comparison, the standard charger takes 170 minutes to charge a 7.5Ah battery. Each battery compartment includes indicators showing the charging status: fully charged, charge in process, or waiting to be charged.
In addition to charging the batteries, the DeWalt 40V Max 6-Pack Charging Station acts as a portable storage solution for the batteries. With a water resistant cover, the charger can ride along with you and still be protected from the elements as well as any landscaping debris.
Unfortunately, the DeWalt Charging Station cannot handle charging while on the road, but maybe that is something an inverter can handle for you.
The DeWalt 40V Max 6-Pack Charging Station will be available in early 2017 and will retail for approximately $399 MSRP.
Visit DeWalt to learn more.
735

views
October 27, 2016
-
01:12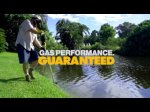 DEWALT 6-pack Charger: Your Battery Solution
Finally, your landscape crew can go 100% gas-free with the DEWALT 40V MAX* 6-Pack Charging Station. Transporting, charging and managing your jobsite battery power is streamlined and efficient. No gas, no pull cords, less noise and less maintenance. Carry up to six batteries in one weather-resistant pack, and charge them fast and efficiently with one outlet - so you'll always have the heavy-duty 40V MAX* battery power you need on hand and ready to work. 40V MAX* 6-PACK CHARGING STATION (DCB116): http://www.dewalt.com/en-us/products/accessories/batteries-and-chargers/chargers/40v-max-6pack-charging-station/dcb116#reviews
cordless
•
outdoor tools
•
DeWALT
•
charger
•
Six Pack Charger
•
40V Max
•
6.0Ah
•
outdoor power equipment
•
DCB116
•
7.5Ah