Johnson 40-0918 Manual-Leveling Rotary Laser Level Review
Chris   February 09, 2011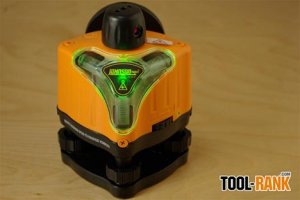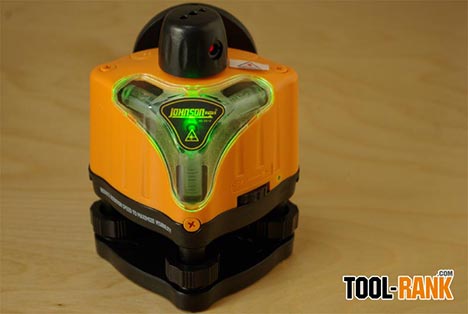 Lasers have been one of the most useful and most popular tools in the last 10 years or so. Technology in a whole has been advancing more rapidly then ever before. This allows us to buy more advanced tools from the past at a much lower price today. Case in point is the Johnson Model: 40-0918 manual-leveling rotary laser level that Johnson sent over for review. Just a few years ago it would have been impossible for a DIYer to go out and buy a rotary laser level, but today the 40-0918 can be purchased for between $60 and $70.
There is no denying that the 40-0918 is a laser that is intended for a DIYer, the build quality makes this quite clear. But that being said, the 40-0918 offers a good bang for the buck. The 40-0918 Laser Level comes in a kit that includes everything you need to get started right out of the box. Included with the laser are 4 AA batteries, red glasses (makes the dot more visible), a compact tripod that extends to about 4', and a tool case.
Right out of the case I noticed that the laser looked a little like a toy, and after picking it up and handling it, it felt like a toy. As stated, this tool is meant for home use, and is priced as such, and I always take price and intended market into consideration for product reviews. Just for comparison, Johnson's contractor grade manual-leveling rotary laser level costs about $100 more. DIYers will be less worried about the build quality of the laser and more concerned with accuracy and function. I have used a DeWalt contractor grade manual-leveling rotary laser for years now, and I can say that the leveling mechanism on the Johnson is far superior. What would take me a few minutes on the DeWalt to level, would only take me seconds on the Johnson. Accuracy on the Johnson 40-0918 was also spot on. This is a manual level, meaning you have to level it out using a couple of vials, but once dialed in, the laser matched a line set by hand. An added bonus is that the vials light up when the laser is on, so you can see them in the dark. In case the laser ever does go out of level, there are a few adjustment screws that are hidden behind some plastic screw caps. I should also add the the laser has a plumb dot that projects out of the top, and the laser can be placed on its side to make vertical lines.
The biggest problem I had with the laser was the rotary function; my laser seemed to be under powered. The specifications list the laser as variable speed at 0 – 600 RPM, but I could not get the laser to spin at anything under full speed. Swapping out the included batteries with name-brand batteries did help a bit, but there was no way I was going to get 5 RPM out of it. This was not a huge problem for me, but if you plan a working longer distances away, or in brightly lite areas, this could be an issue. The laser even says "reduce rotation
Brand
Johnson Level
Model #
40-0918
Buy


Amazon
speed to maximize visibility". I haven't seen this issue mentioned in any of the other reviews online, so it could be possible that I got a bad laser, but I can only go on what I see for myself.
Even though the 40-0918 manual-leveling rotary level from Johnson has a few problems, it is still a good buy for light duty use. The 40-0918 is one of the cheapest priced leveling lasers on the market today, despite it including a handy little tripod. If any of the problems mentioned above have you worried, you might want to step up to a contractor grade laser.
40-0918
•
editor review
•
Johnson
•
laser
•
laser level
•
level
•
rotary level