Rockler's Bandy Clamps On The Edge
https://www.tool-rank.com/media/listing/photos/thumbnail/300x300s/e3/3e/de/54258-03-1000-44-1427406106.jpg
Chris   March 26, 2015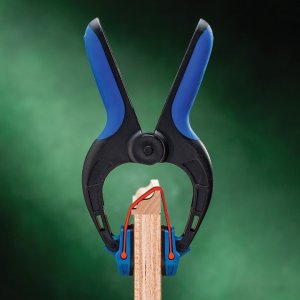 Rockler has come out with a new clamp that makes it easier than ever to clamp onto the edge of plywood, MDF and other sheet goods. The Rockler Bendy Clamp provides even pressure around the edge, allowing for hassle-free installation of thick edge-banding and moldings.
Featuring a proprietary 1" wide rubber band between the pivoting jaws of the clamp, the Bendy provides non-marring clamping pressure as the band is stretched over the edge of the surface. Changing the depth of the clamp also changes the clapping pressure over the edge of the surface, and the non-slip jaws ensure that the clamping pressure holds.
The clamps are made of high-strength nylon with fiberglass, and the band is made of a tear-resistant material with three strength-adding splines molded into it. Rockler says you don't even have to worry about glue—it just flakes right off the rubber band material.
A pair of the Rockler Bend Clamps retails for $19.99, or you can get 3 pairs for $49.98 ($16.66 pr). BUY - Rockler
Rockler
•
Bendy Clamps
•
clamp
•
clamps
•
spring clamps
•
edge clamps