Ready2Rout Is A New Electric Router Fence From Rockler
https://www.tool-rank.com/media/listing/photos/thumbnail/300x300s/8a/fb/f6/44999-10-Ready-2-Rout-14-1380701743.jpg
Chris   October 02, 2013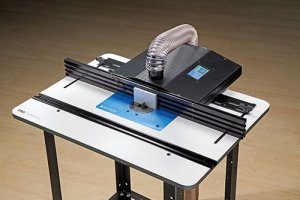 Rockler Woodworking and Hardware has come out with a new product that I think is pure genius; and this genius comes in the form of a new electric router fence that can be programmed to make cutting box joints, dadoes, and dovetails a breeze.
Precision is the key to any good woodworking joint, but who wants to spend the time testing, adjusting, and testing again to make sure your fence is set just right? Pre-loaded apps on the Ready2Rout make what would otherwise be a time consuming task as simple as entering your numbers using the built-in touch screen.
Once the Ready2Rout is zeroed in and you have your numbers entered in the app, the on-board controller box takes over to adjust the fence to right where you need it. Even things as simple as using a ¼-in bit to cut a 3/8-in dado can be done in less time than it takes to swap out bits.
The Ready2Rout is priced at $599.99, but if the router table is the center of your workshop, I imagine it would pay for itself rather quickly. BUY - Rockler
1952

views
October 02, 2013
-
01:46
Ready2Rout Router Table Fence
For more details visit http://www.rockler.com/product.cfm?page=32801. Spend less time tediously adjusting your fence, and more time producing in the shop! With computer-controlled precision, repeatable fence settings stored in memory, a pre-installed suite of apps, and many more to come, this first-ever electronic router fence ushers the humble router table into the "smart" era. Woodworkers used to endlessly tapping and bumping their fences will appreciate the ease and simplicity of pressing only a few buttons to dial in a setting.
Rockler
•
Ready2Rout
•
CNC
•
router