Tool Blog
Rockler Universal Drawer Slide Installation Jig
Rockler Universal Drawer Slide Installation Jig
Hot
https://www.tool-rank.com/media/listing/photos/thumbnail/300x300s/b3/bd/ca/Rockler20Universal20Drawer20Slide20Installation20Jig-19-1427999954.jpg
Chris April 02, 2015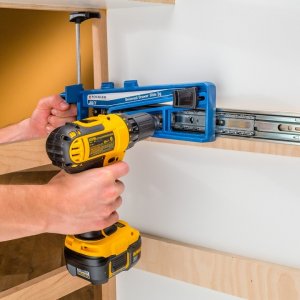 Rockler Woodworking and Hardware wants to make the installation of drawer slides simple with their new Universal Drawer Slide Jig (57302). The jig fits most types of drawer slides and provides a solution for accurate and repeatable positioning of both side-mount and center-mount slides within a cabinet.
The Universal Drawer Slide Jig is able to hold most types of slides by using a wedge to securely lock the slide to the jig. From there, the slides can be aligned and positioned using the face of the cabinet as reference, and then the adjustable indexing rod to set spacing. The jig allows the user to install the drawer slides on both sides of a cabinet while indexing from the top or bottom of the cabinet to ensure both are installed at the same height.
The jig can either be held in place during installation or a clamp can be used to free up both hands. Eliminating all guess work, the mounting holes can be drilled while the jig is holding the slide in place, then the screws can be added. Rockler's Universal Drawer Slide Jig (57302) is available now and retails for $29.99. BUY - Rockler
355

views
April 02, 2015
-
02:50
Rockler Universal Drawer Slide Jig
For more details visit: http://www.rockler.com/rockler-universal-drawer-slide-jig . Install drawer slides quickly, accurately and more easily than ever with this innovative jig!
Rockler
•
jigs
•
drawer slides
•
57302