Editor's Power Tool Review
Check below to find the latest tool review from the editors at Tool-Rank. We review the tools we think you would find the most helpful, so you can shop with confidence. We have tool reviews from major brands like Milwaukee Tool, DeWalt, Makita, Dremel, Bosch, etc.
Power Tool Reviews
Cordless Tool Reviews
Hand Tool Reviews
Multi Tool Reviews
Circular Saw Reviews
and much much more.
If you would like to see a specific tool review, let us know. After all, we are here to help you. We like to do tool reviews that are unique and fun, but we also enjoy reviewing the standard tool you would use for everyday projects. We review tools from small Mom & Pop manufacturers, to large world brands, everything from Ryobi to Milwaukee.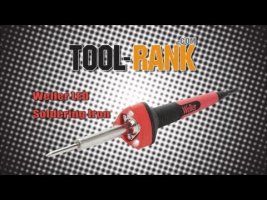 A couple of months ago I teamed up with Weller to give away one of their brand new soldering irons that feature built in LED lights. Not only were they kind enough to let me give one away to you fine Tool-Rank readers, but they also sent me one so I could see for myself if those new LED lights made a difference.
Back when I tested the Milwaukee M18 Fuel Brushless Hammer Drill, I found that it easily proved itself to be a powerhouse. It took on every task with speed, while also showing long battery life. Being that their M18 Fuel Impact driver is in the same M18 Fuel family, can it too prove to be a powerhouse? Let's find out.
Recently I had a chance to put Bosch's new GCL-25 laser-level to real practical use. The GCL-25 laser level features five beam points—up, down, forward, left and right; in addition, it also displays continuous cross hair lines—horizontal and plumb. The beams and lines are all self leveling and can be used independently or together. The tool's featured 5-point, cross-hair combination made it ideal for my project, which, prior to the introduction of this layout tool would have required two tools or more.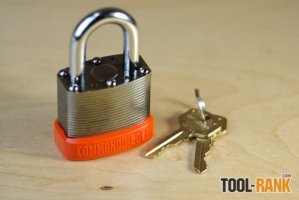 If you are using a lock to protect your tools, you might want to ditch what you are currently using and give Commando Lock's Peacemaker Safety Series lock a try. Packed with military grade features and costing only about $12, you can't go wrong.
Chris   January 16, 2013  
1
0
Last year I reviewed the first and original silicone glue brush from Rockler and was impressed right away by how well it worked. And while I liked the brush and recommended it, I did have a problem with it not being able to fit inside a glue bottle. Rockler's solution? The Mini Silicone Glue Brush.
Chris   December 10, 2012  
1
0
Gorilla Glue recently came out with a new single use tube packaging for their original polyurethane Gorilla Glue formula. The idea is that a person that rarely needs the glue can open up a fresh tube for each project; or stash away a tube in a tool box, glove box, tackle box, etc box when a repair calls. We already know the Gorilla Glue polyurethane formula works, but will the new tubes keep the glue fresh?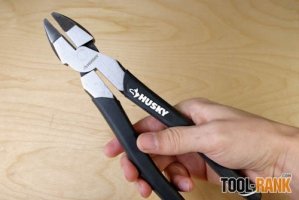 Chris   November 18, 2012  
0
26
Husky has recently come out with a whole new line of pliers and wrenches that are designed to be affordable and come with a lifetime guarantee. They sent over a few of their new tools so we could take a look and let you know what we think about them. So lets jump right in.
Chris   September 28, 2012  
0
10
When you are a tradesman there is balancing act that you are always faced with. There are only so many tools you can take with you, so you have to choose what stays and what goes, and this is why I like tools with more than one function. This is also why a company like Swanson makes a tool like the Savage SVK666 Folding Jab Saw/Utility knife. It takes two tools that are commonly used when working with drywall and combines them. But how well did Swanson do at pairing these two tools up? They sent us one so...
Can an 18 gauge nail gun with a name unfamiliar to most carpenters compare to the guns made by the big name tool makers?—Well, this carpenter emphatically says Yes! In fact the Uffy finish nailer I recently used surpasses my expectations in nail guns, and over the years I've used many brands.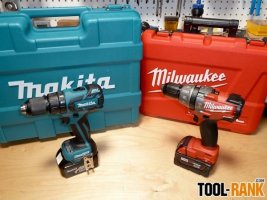 Brushless motors are the latest innovation to hit cordless power tools. In fact it is so new that there are few cordless tools that take advantage of the technology. In this article I am going to review two brushless drills that are available now, the 2604-22 Milwaukee Brushless Hammer Drill and the LXPH05 Makita Brushless Hammer Drill. Just for a stat comparison, I also threw in last years HDH181 Bosch Hammer Drill which is not brushless.