Editor's Power Tool Review
Check below to find the latest tool review from the editors at Tool-Rank. We review the tools we think you would find the most helpful, so you can shop with confidence. We have tool reviews from major brands like Milwaukee Tool, DeWalt, Makita, Dremel, Bosch, etc.
Power Tool Reviews
Cordless Tool Reviews
Hand Tool Reviews
Multi Tool Reviews
Circular Saw Reviews
and much much more.
If you would like to see a specific tool review, let us know. After all, we are here to help you. We like to do tool reviews that are unique and fun, but we also enjoy reviewing the standard tool you would use for everyday projects. We review tools from small Mom & Pop manufacturers, to large world brands, everything from Ryobi to Milwaukee.
People are always on the lookout for tools that allow themselves to work faster, heck, this is the whole reason electric drill/drivers were created. But there is such a thing as having too much power, and you end up putting precision at risk. The Swift Driver aims to provide people with a faster way to drive screws, yet still allow the user the control required for certain tasks.
All headlamps are not created equal and to get a headlamp that can handle the demands of a jobsite, and last, you need something more than your average hikers light. I have used a few headlamps in the past that cost around $20, but none of them could handle the jobsite abuse I threw at them. Today I review the Pixa 3 headlamp that Petzl sent me, a light that has been built for contractors. Will it hold up?
My wife loves her garden; so when she happened to suggest that this year she would like to try raised garden beds, and Craftsman happened to request a review of their new digging shovel, I said; "let's get started." A serious digging project requires a serious digging tool, and the Craftsman Long Handle Digging shovel is as serious as they come.
Chris   April 02, 2012  
0
20
I think I have said this before, but when I saw the DeWalt ToughSystem and the features it offered, it was love at first sight. I was already in the market for a modular type storage system/tool box and had been scoping the offerings from the other brands, but the ToughSystem had a complete solution that best suited my needs.
Rockler must have a great team of product researchers in their employment because every year they come out with a few great products that either fill a void, solve a problem, or improve upon a design. This year one of their products is the silicone glue brush. Some of you guys wanted to know how well it worked, and Rockler was kind enough to send me one, so I put it to the test.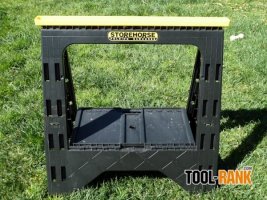 Chris   February 24, 2012  
0
5
This might be hard for some of you to believe, but one of my most used tools on the jobsite is actually a pair of sawhorses. Whenever I need to cut a counter top, a wall panel or the occasional door I need a pair of sawhorses. Since I move around a lot on the jobsite, the lighter the horse the better, so plastic horses are a must. I have used a bunch of different saw horse brands over the years, but I have never been happy with any of them, that is, until I purchased a pair by...
Chris   February 15, 2012  
0
5
When it comes to drills and other popular power tools, it can be hard to rank one higher than another because they are all so similar these days. The race to offer the most power has plateaued, and now manufactures have to win over our hearts with other features. Does the new Bosch HDH181 Cordless Hammer Drill have what it takes to win you over? We put it to the test.
Chris   September 29, 2011  
0
0
The days are getting shorter, the nights are getting longer, and we are entering what I like to call "flashlight season". Soon you will be arriving at work, or leaving, in the dark. Because of the dangers of the jobsite, one thing you don't want to do is navigate in the dark. The reasons to keep a flashlight handy far outweigh the excuses to not have one, so it would seem to be perfect timing for a flashlight review, and I have one for you thanks Coast. What Coast sent over was their A15 Professional LED...
Chris   September 08, 2011  
0
1
Bosch sent me out their Cordless PS50 Multi-X a few months back, as well as their Corded MX25E Multi-X. Since I got them both around the same time, and have used them both on the jobsite, I figured it would be best to do a single article that reviews and compares both models together. Oddly, Bosch's introduction into the oscillation tool market was done with the 10.8/12-volt cordless PS50, while other manufacturers and even their own tool subsidiary, Dremel, all introduced corded models. But even though the PS50 is a few years old, it is still...
Chris   September 01, 2011  
0
0
I have never been a fan of folding utility knives. They always felts cheap, the mechanism that holds the blade in place seemed dangerous, and they were darn right uncomfortable to use. Their handiness was far outweighed by their design flaws. With all of the flaws in the Utility Folder class, could DeWalt's introduction of the DWHT10035 Folding Retractable Utility Knife do any better than the folders on the market today? DeWalt sent over the knife so I could find.