Rockler Mini Silicone Glue Brush Video Review
https://www.tool-rank.com/media/listing/videos/thumbnail/300x300s/c2/40/2e/VsyjftzPBa4.jpg
Chris   January 16, 2013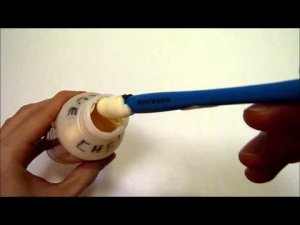 Last year I reviewed the first and original silicone glue brush from Rockler and was impressed right away by how well it worked. And while I liked the brush and recommended it, I did have a problem with it not being able to fit inside a glue bottle. Rockler's solution? The Mini Silicone Glue Brush.
The Mini Silicone Glue Brush is not simply a smaller version of the original, it actually has features suited for its smaller size. On one end of the tool is the round mini glue application brush, but the other end features a new tip that can be used to drip glue into tight spaces or spread glue in dowel and mortise holes. As you might expect, the new glue brush shares the same non-stick capabilities of the original, allowing both brush tips and the blue handle to be easily cleaned even after the glue has been allowed to dry.
Needless to say, I am a fan of the Mini Silicone Glue Brush and now more of a fan of the original in knowing that I am covered for both big and small gluing needs.
Rockler
•
Silicone Glue Brush
•
glue brush
•
editor review
•
glue