Editor's Power Tool Review
Check below to find the latest tool review from the editors at Tool-Rank. We review the tools we think you would find the most helpful, so you can shop with confidence. We have tool reviews from major brands like Milwaukee Tool, DeWalt, Makita, Dremel, Bosch, etc.
Power Tool Reviews
Cordless Tool Reviews
Hand Tool Reviews
Multi Tool Reviews
Circular Saw Reviews
and much much more.
If you would like to see a specific tool review, let us know. After all, we are here to help you. We like to do tool reviews that are unique and fun, but we also enjoy reviewing the standard tool you would use for everyday projects. We review tools from small Mom & Pop manufacturers, to large world brands, everything from Ryobi to Milwaukee.
When Bosch asked if I wanted to review their latest 12 volt pocket driver, I just had to say yes. I asked the Tool-Rank readers not long ago if they thought 12 volt tools offered enough power, and now I would be able to see this for myself. It is weird that in the relatively short life of cordless tools we have come far enough that instead buying tools wanting excess power, we are looking at smaller tools with enough power. Why buy a tool that can drive a 6" lag bolt, when we only need to drive a...
Every time Dremel comes out with a new rotary tool I get that warm fuzzy feeling inside. I don't know why, maybe because it is one of those tools that you know can always get you out of a jam. That is, if you remember to have it on the job when you need it. This is also the reason I love the fact that it is cordless, no cords means it is practically setup right out of the case. The 8200 is Dremel's first Rotary tool that is compatible with all Dremel accessories and attachments, so the gap...
When ChannelLock said they wanted to send me their new Model #412 6.5" V-Jaw Tongue and Groove Pliers, I was a bit hesitant. My job is in installing commercial cabinets and millwork, how effectively could I test a tool that is designed for nuts, bolts, etc. After a bit of use, my concerns were quickly put to rest. First let me explain the difference between ChannelsLock's regular tongue and groove pliers and their V-Jaw sibling. While the regular T&G plier has two parallel flat contact surfaces with teeth at a right angle,...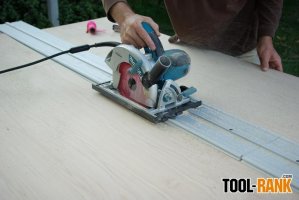 Chris   January 20, 2010  
0
1
Oscillation tools seemed to top the list amongst DIYers this past year, but for many professionals, the step up to track saws was high on their list. Why track saws? Because they offer table saw quality and accuracy in a much smaller more portable tool. They also have the added benefit of being much safer to operate. Today I will be going over my experiences using the Eurekazone track saw system. Eurekazone sent over the EZ Smart Guide SGS-114" kit, which includes: (1) 64" rail, (1) 50" rail, (3) rail connectors, (1) Smart Base, (2) Smart Clamps, (2) AC-1...
Back in May, I wrote about Campbell Hausfeld's new line of Pneumatic Nailers. Their goal was to produce a nail gun for your average Joe that could give results of a seasoned pro. To do this, they have added some interesting features to their model CHN70699 finish nailer which are not found in other nail guns. These features include: a built in laser, warning lights/sounds and even a stud finder. The CHN70699 can fire nails ranging in size from 1" up to 2-1/2" and uses standard angled 15 gauge finish nails. The operating pressure range is between 70 and...
Introduction It is always fun to test out tools for review, but it is especially fun when you know the tool you will be testing is something you need, or will make life easier. Such is the case with the Work Sharp 3000. Like me, I am sure a lot of carpenters have tools such as chisels and hand planes that get used and abused at work on a daily basis; but how often do those tools get the good sharpening they need to perform at their best. In the past I have used everything from belt...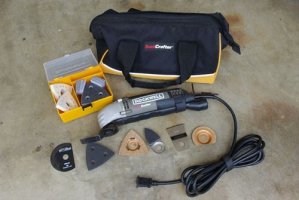 I don't know that there has been a single type of tool that has been more popular at a given time, then the oscillating tool is today. The main reason behind this, is the fact that most of these tools have all come out at around the same time. Rockwell, unlike Bosch and Dremel, is relatively unknown, but has a few things that are helping them out. One being the popularity of their JawHorse which I have seen discussed in a number of tool related message boards, another is their infomercials. Which is also how the Fein MultiMaster was...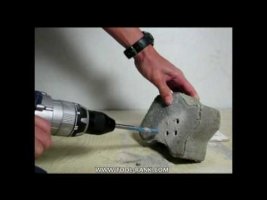 Over the past couple weeks I have been testing out the new Bosch Multi Construction Drill Bits, and so far I am really liking them. Being a finish carpenter, I have on a number of occasions had to install cabinets, and vanities over tiled walls. The problem with this is that you need one drill bit to drill through wood, and another to drill through the tile. The Bosch Multi Construction Bits really make it easy to drill through both materials at the same time. Another problem I have is attaching wood backing to concrete walls with...
I recently had an opportunity to test out the Stout X-Band Saw and Cutting Station. Let me start out by say that the X-Band Saw is like no other saw on the market. How so? Well, you have the ability to use the saw as both a portable hand held band saw, and a small band saw station when using the available Cutting Station accessory. When you first pull the X-Band out of its case you realize how small it is. Hopefully the photo of the X-Band in hand can give you an idea of its size....
Chris   November 23, 2008  
1
0
Introduction This is one tool that has had a lot of attention ever since it was announced. It seems people have been waiting for an alternative to the Fein MultiMaster for some time. Let me just say that there is a $300 price difference between the Fein MultiMaster and the Dremel Multi-Max, with the Dremel being the cheaper of the two. This is probably the reason people have such a huge interest. Being someone that has never used the MultiMaster, unfortunately I cannot give you a comparative review. You might want to...