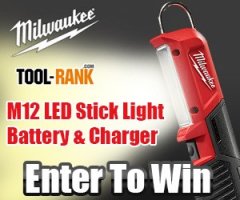 Tool-Rank
Chris   August 01, 2014  
0
1
Contest Information
Contest Ends
August 31, 2014
If you have read my Milwaukee M12 LED Stick Light Review you would know that I am a huge fan of the cordless LED light. So when I had an opening for a giveaway I knew I had to try and team up with Milwaukee to give one of them away. Milwaukee Tool happily agreed to my request and also decided to throw in a battery and a charger.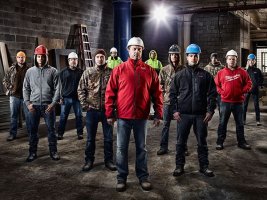 News
Chris   July 02, 2014  
0
1
It may be hard to believe, but Milwaukee is in their fifth season of making their M12 Heated Gear. When they come out later this year, the lineup will include more color and camouflaged jacket/hoodie choices, a new jacket design, and even a new 3-in-1 jacket style.
Tool Blog
Chris   June 24, 2014  
0
2
Just in case you still thought of Milwaukee as only a power tool company, they are continuing to expand in their Test & Measurement line of tools with the addition of two new Electrical Testers. Their goal, they say, was to come out with a simplistic Voltage/Continuity tester with a digital readout.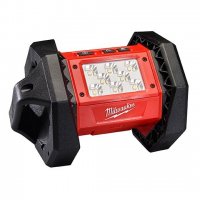 Reviews
Chris   June 09, 2014  
0
8
A while ago Milwaukee sent me out their M12 LED Stick Light and their M18 LED Flood Light to review, but to be honest, after much testing I couldn't find the words to express how much I love these two light. While I wanted to share a review for these two excellent lights, I just kept putting it off. Well, the wait is finally over; I still might not be able to express my adoration for the Milwaukee cordless LED work lights, but here it goes.
Manufacturer News
Chris   June 04, 2014  
0
1
Press Release: 06/02/2014 MILWAUKEE, WI – Today, Milwaukee Tool announced the acquisition of the Empire Level business based in Mukwonago, Wisconsin. Steeped in history dating back to 1919, Empire Level is a fully integrated solutions provider in the Layout and Measurement product categories. Empire is the leading US manufacturer of levels, squares, layout tools, and safety and utility tape. "From the invention of the Monovial, to the introduction of the first Torpedo Level, Empire has a strong history of innovation. We share a passion for delivering best-in-class solutions for our users," says Steve...
Hot Deals
Chris   May 20, 2014  
0
0
If you are subscribed to the HomeDepot PRO newsletter you are probably used to them sending you a lot a mail with hardly any value in them; but every once in a great while they have a coupon or sale in them that makes it all worth it. Yesterday's email was one of the rare gems, announcing an online sale on select Milwaukee Tools, Ridgid tools, Pnuematic compressors and nailers, and more. And this isn't just a regular sale, the saving on some of the items is big. An 18-Volt Milwaukee Hammer...
Tool Blog
Chris   May 13, 2014  
0
3
Milwaukee has announced that they will be coming out with their own line of locking pliers and clamps. But what sets them apart from all the other locking pliers that are already available is a new feature called Torque Lock.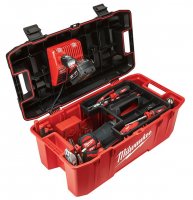 Tool Blog
Chris   May 05, 2014  
0
5
Many brands claim to make tool boxes that are tough enough to handle jobsite abuse, but how many of them can survive 1000 drops with a 50lb. load? Probably not many, but Milwaukee says their new 26" Jobsite Work Box 48-22-8020 can.
Tool Blog
Chris   April 28, 2014  
0
1
Milwaukee continues to push out M18 Fuel tools at a staggering pace. The latest tool to get Milwaukee's brushless motor treatment—among other advancements—is their Deep Cut Band saw with a 5"x5" cutting capacity.
Tool Blog
Chris   April 09, 2014  
0
2
Milwaukee has introduced a new line of Shockwave Thin Wall Hole Saws that have designed to meet the needs of professionals who regularly need to drill through thin sheet metal. As part of the Shockwave line, these hole saws features a ¼" hex shank so they can be used in Impact Drivers.