News
Chris   May 09, 2013  
0
1
Milwaukee has seen so much success with their Fastback utility knife that they have decided to do it again. Meaning, they came out with a Fastback II utility knife. The Fastback II doesn't have any major changes over the previous model, but it does have the one thing everyone was asking for—on-board blade storage.
Hot Deals
Chris   April 25, 2013  
0
1
If you rely on cordless power tools, one of the best ways to improve their usability is to purchase additional batteries. But why purchase batteries when you can get them for free? I found a couple of deals that can get you free Bosch or Milwaukee batteries.
News
Chris   April 04, 2013  
0
1
Milwaukee Tool is continuing to expand their M12 Line of cordless tools with the introduction of the new 2416-22XC M12 Fuel 5/8-inch SDS-Plus Rotary Hammer. As noted, the new tool carries Milwaukee's "Fuel" branding, which means it also features their new Powerstate brushless motor technology.
Manufacturer News
Chris   April 03, 2013  
0
5
When you hear the name Milwaukee Tool, I bet the first tools that come to mind are not hand tools; but maybe that should change. Milwaukee has been getting into the hand tool business over these last few years, and we've got word that even more tools are coming this May.
Tool-Rank
Chris   March 05, 2013  
0
1
Contest Information
Contest Ends
March 25, 2013
Milwaukee is currently running a giveaway on their Facebook page where you can win a pair of their Redlithium batteries. They will be giving away a grand total of $5000 worth of batteries that will go to a number of lucky winners. And because we are awesome, Milwaukee has also given Tool-Rank readers a second chance at winning a set.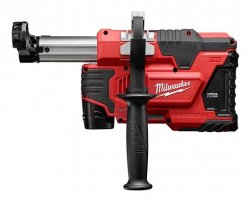 News
Chris   February 07, 2013  
1
1
The Milwaukee M12 HammerVac is a dust extractor that collects the dust that your rotary hammer makes while drilling, but unlike other cordless rotary hammer vacuums, the HammerVac works on other brand's drills too.
News
Chris   January 30, 2013  
0
1
Milwaukee Tool has been really targeting and capturing the speciality tool market with their cordless line over the last few years. While most of their speciality tools fall under their M12 line, the newly announced Milwaukee cordless grease gun will indeed be powered by 18-volts.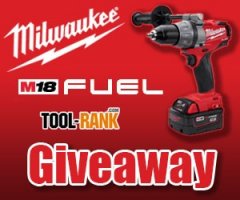 Tool-Rank
Chris   January 28, 2013  
0
1
Contest Information
Contest Ends
February 28, 2013
We took a little bit of time off from our giveaways over the holiday season, but we are back in the new year with a great new giveaway from Milwaukee Tool. Up for grabs this month is the Milwaukee 2603-22 high performance M18 Fuel brushless cordless Drill/Driver, a tool that features some of the latest in cordless tool technology. If you are looking for a powerhouse in a drill, this is it.
Manufacturer News
Chris   January 23, 2013  
0
1
If you have visited the Milwaukee Tool website within the last couple of days you might have noticed that they have completed a major overhaul. It is now even easier to navigate through the categories, it is more visually appealing and also more organized.
News
Chris   January 08, 2013  
0
1
Milwaukee announced on their Facebook page that products from their new M12 Fuel line will start shipping to stores on February 1, 2013, which means that you should be able to purchase them later in the month.