News
Chris   December 13, 2012  
0
1
We are all moving in the direction of using more cordless tools to get the job done, and more tools means more batteries. Milwaukee has announced a new charger that accepts 6 batteries at once and should make the task of charging a bit easier.
News
Chris   December 03, 2012  
1
1
We all hate using the standard squeeze-grip style caulking gun - especially if the weather is cold and you can't get your goop to flow - but we don't really want to spend a fortune on getting a powered unit either. Thanks to Milwaukee we now have a third option with their new M12 ultra compact cordless caulk and adhesive.
News
Chris   November 08, 2012  
0
0
12-volt tools are quickly becoming just as powerful as the 18v tools of just a couple of years ago and might soon eliminate the need for the extra voltage. Just as 12v tools are replacing the need for 18v tools, it looks like Milwaukee could be set on making 4v tools the new compact king, and their new M4 screwdriver is just the start.
News
Chris   November 05, 2012  
0
2
Milwaukee first made their new brushless M12 Fuel line of drills and impacts known during their press event way back in June. They then gave us the clue about the winter release date back in August. Now, with winter just around the corner, they have released the specs, and they have us wondering if you really need 18v tools anymore.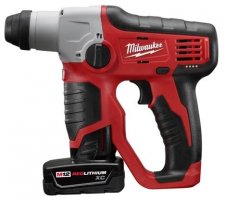 News
Chris   September 06, 2012  
0
1
When I am reading about new tools I always think about how these tools will help me on the job. When I see the new sub-compact 2412-20 M12 SDS-Plus Rotary Hammer I think of all the times I had to run hundreds of feet of extension cords so I could drill holes to set door thresholds at hotel jobs. The 2412-20 seems perfectly suited for these types of jobs.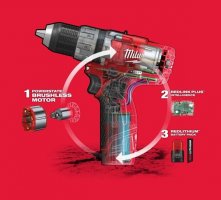 News
Chris   August 07, 2012  
0
1
Along with Milwaukee's announcement of new higher capacity batteries comes their announcement of new Brushless M12 cordless drivers. In my opinion Milwaukee has been the leader in 12-volt ultra compact tools, and they have shown this again by leading the pack with Brushless ultra compact drivers.
News
Chris   August 07, 2012  
0
0
All of the signs pointed to the inevitable release of next generation of higher capacity batteries, and Milwaukee has made the announcement official today. Not only is the M18 line of tools getting a boost, but so does the M12 ultra compact class of tools.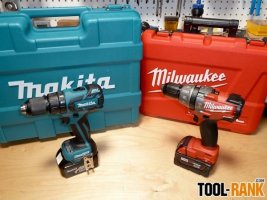 Reviews
Chris   June 26, 2012  
0
25
Brushless motors are the latest innovation to hit cordless power tools. In fact it is so new that there are few cordless tools that take advantage of the technology. In this article I am going to review two brushless drills that are available now, the 2604-22 Milwaukee Brushless Hammer Drill and the LXPH05 Makita Brushless Hammer Drill. Just for a stat comparison, I also threw in last years HDH181 Bosch Hammer Drill which is not brushless.
Hot Deals
Chris   June 21, 2012  
0
0
Milwaukee just recently announced some new updated versions of their popular M12 cordless heated jackets and it looks like with the new model's release being just around the corner, CPO Outlets has marked down much of their current stock to just $139.99. This price includes the jacket, the battery and the charger. If you already have a M12 battery and charger, CPO also has select Jacket Only sizes and styles for only $99.99. The regular price of the Milwaukee Heated Jacket kits are still in the $170 range and I believe when the jackets...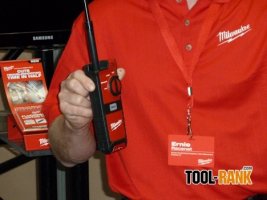 Manufacturer News
Gary   June 19, 2012  
0
10
The city named Milwaukee may be known to many folks as the brewing powerhouse, but the brand name Milwaukee is known to many tradesmen as the tool powerhouse. Remembering back to my first mornings on a job site, where I noticed electricians gathered around a train of brown gang boxes, and where plumbers congregated similarly nearby, and where HVAC guys and pipe fitters too stood ready to lift open those heavy brown lids, and notably when the lids raised and arms rushed in, out came the stout red cases with the name Milwaukee in prominent white. Last...