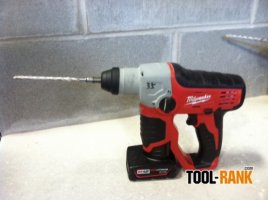 News
Chris   June 12, 2012  
0
15
We are at the Milwaukee Tool 2012 media event. Be sure to Follow the news on Twitter, Facebook and Google+. New information will be released througohut the day. Update: Photos from yesterdays event have been added to the gallery below. More information on the tools and photos will be coming soon. The most notable tools are the 12V Cordless Rotary Hammer, and the new Milwaukee Version 2.0 Heated Jackets with built-in USB charger and heated pockets.
News
Chris   April 24, 2012  
0
1
If you have already purchased one of the new Milwaukee 18V Brushless Drills, or you are just looking for an upgrade, you won't have to wait very long until you can get your hand on the new Milwaukee M18 Fuel Brushless 1/4" Impact Driver. The Impacts are expected to hit store shelves in June, and specifications look very promising.

Weekend Links
Chris   March 31, 2012  
0
0
12V Recip Saw Showdown, Milwaukee v Bosch v DeWalt v Makita – Coptool Which ultra-compact reciprocating saw is best? Coptool puts the 12V recip saws from the major brands in a head to head battle. They test cutting speed, power, battery life, comfort and more. Check out the review to see who Coptool chooses as the winner. Custom Woodworker Takes on OSHA and Wins – Woodworking Network The big bad OSHA is out there and they just might find you and fine you, even if you did nothing wrong. How?...
Manufacturer News
Chris   March 22, 2012  
0
0
Not long ago I wrote about how Adam Savage from Mythbusters loves portable bandsaws. Since he does a lot of traveling for the show, I think he might get a kick out Milwaukee's latest cordless bandsaw which holds the title of lightest and most compact bandsaw on the market. Milwaukee's bandsaw is also the first to run on only 10.8-volts (M12).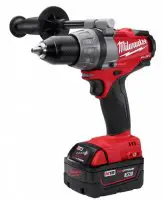 News
Chris   March 13, 2012  
0
1
The evolution of tool technology continues to impress, and Milwaukee is leading the charge with their latest line of cordless drills. Their new M18 FUEL line features the latest in drill technology, yet still manages to remain affordable to tradesman. So what makes the M18 FUEL line so special? How about better power, longer run times and long tool life?
Manufacturer News
Chris   October 31, 2011  
0
0
At a time when most power tools are made outside of the U.S., and a time when jobs are hard to find, it is good news to hear that Milwaukee Electric Tool could be adding up to 103 new jobs to their research and development center in Brookfield, WI. It turns out this expansion is due to $1.5 million in economic development tax credits that MET is eligible for, as well as a $250,000 loan to improve the facility. Milwaukee Tool has already started on the remodeling and expansion needs at the facility, and some of the...
Cool Tools
Chris   August 30, 2011  
1
0
We have seen a few professionally made drill powered mini bikes in the past, but it is so much cooler when you can build one yourself; like Jay from Coptool did. Jay had the idea of building a drill powered vehicle and he let his inner child take over to dream it up. Jay started out with a KickBike scooter that he purchased from Amazon for around $260, this was going to be the body of his build. He chose this particular model scooter because it uses a large front wheel that adds stability. Jay also...