Reviews
Chris   October 16, 2013  
0
13
When you think of Milwaukee you don't really think of hand tools, but Milwaukee has been on a push over the last couple of years to change all that. This year Milwaukee has introduced a number of new hand tools, including the screwdrivers we will be reviewing today. In the review I will be going over their General Purpose Screwdriver Set as well has their 10in1 Ratcheting and 10in1 Non-ratcheting drivers.
News
Chris   October 07, 2013  
0
3
If you liked the form and function of the original Milwaukee Fastback Utility Knife or the recently updated and improved Fastback II Utility Knife, you might also be interested in the new line of Fastback Pocket Knives.
Manufacturer News
Chris   October 04, 2013  
0
2
Milwaukee Tools is set to release a total of six new M18 Compact Drills and Drivers over the next few months that will replace existing models. The new models include two Drills (2606-22CT, 2607-22), two Impact Drivers (2657-22CT, 2656-20), and Two Impact Wrenches (2658-22, 2659-22). All six boast improvements to ergonomics and overall performance.
Hot Deals
Chris   October 01, 2013  
0
1
HomeDepot.com has a pretty sweet deal on the Milwaukee M12 3/8 in. Drill/Radio Combo kit. What was normally $199 has been marked down to $149 for the week. Taking a quick look at other online stores finds the same kit for $189 or higher. What makes the deal even better is what is included with the kit. At $149 you might expect something bare-bones or with only one battery, but on top of the Drill and Radio, this kit actually comes with two batteries, a charger, and a contractor bag. Get the deal (online only)...
Manufacturer News
Chris   September 24, 2013  
0
3
If you have been impatiently waiting for Milwaukee to release their 2626-22 M18 Cordless Oscillating Multi-Tool to use alongside your other Milwaukee cordless tools, you won't have to wait much longer—like maybe only a few more days. Along with a freshly delivered press release (below) as evidence, ToolBarn.com has them listed as shipping October 1st.
News
Chris   July 29, 2013  
1
7
During their media event back in June, Milwaukee announced that they would be expanding their heated gear line with new M12 Heated Hoodies, M12 Heated hand Warmers, and finally a M12 heated Jacket for Women. And while these do not officially go on sale until August, you can reserve yours now with a pre-order.
News
Chris   July 22, 2013  
0
5
Not too long ago Milwaukee introduced a whole new line of M12 Fuel drills and impacts that feature the latest in brushless tool technology. If you want the most power from a sub-compact tool, these are it. But Milwaukee has not forgotten about their M12 (brushed) line of tools and has recently announced six new products that will either replace existing models or will add to the lineup.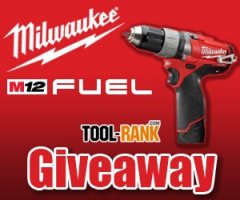 Tool-Rank
Chris   July 09, 2013  
0
1
Contest Information
Contest Ends
August 09, 2013
Do you know what time it is? It's giveaway time. And since we haven't done a Milwaukee giveaway in a while, and because they have been releasing a lot of really nice products lately, we decided to team up with them for this giveaway. What we have to offer is one of their new M12 Fuel Brushless Drills.
News
Gary   June 17, 2013  
4
8
sym•po•si•um [sim-poh-zee-uh m] n. a dynamic conference organized for the discussion of the latest innovative Milwaukee tools Before highlighting a sample of the many great tools revealed in this event held last week, it was helpful for me to first check my dictionary for the proper usage of the word; and though Webster might not have defined it exactly this way, having first-look at Milwaukee's latest innovative tools indeed made the Milwaukee tool new product symposium a dynamic conference. With expert product managers showcasing tools like the latest M18 FUEL cordless line; a M18 cordless LED...
Reviews
Chris   June 06, 2013  
0
9
Back when I tested the Milwaukee M18 Fuel Brushless Hammer Drill, I found that it easily proved itself to be a powerhouse. It took on every task with speed, while also showing long battery life. Being that their M18 Fuel Impact driver is in the same M18 Fuel family, can it too prove to be a powerhouse? Let's find out.