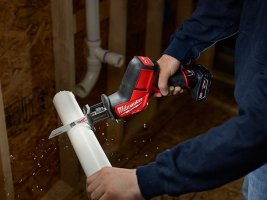 Tool Blog
Chris   March 20, 2014  
0
1
Yesterday on their social media pages Milwaukee teased us with news that a new M12 Fuel tool would be announced today. If you were one of those that guessed it would be a new Hackzall, you were right. Milwaukee's portable 12-volt saw will now be part of the brushless family.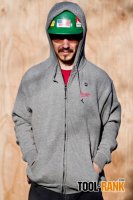 Reviews
Chris   March 19, 2014  
0
8
When users told Milwaukee they didn't like putting their nice heated jackets through jobsite abuse, Milwaukee's answer was to come out with a heated hoodie. In this review we take a closer look at the less formal, less costly, but still stylish Milwaukee M12 Heated Hoodie.
News
Chris   February 06, 2014  
0
1
Let's face it, not all contractors are technology wizards, which might prevent them from using tools that could be beneficial their business. In an effort to bring useful technology to everyone, Milwaukee has come out with new laser distance measurers that they say are the easiest to use in their class.
Tool Blog
Chris   January 17, 2014  
0
2
Milwaukee Tool is expanding their M18 Lithium-ion system even further with the introduction of their new M18 Cordless Compact Blower. Delivering 100 CFM and 160 RPM with a variable speed trigger and three speeds, Milwaukee says the 0884-20 is the most powerful compact cordless blower in its class. Though that shouldn't be too difficult because the class is pretty small.
Tool Blog
Chris   January 10, 2014  
0
3
If you have ever used a traditional permanent marker on the jobsite you probably already know that the marker tips don't last very long. Milwaukee has introduced a line of Inkzall Permanent Markers that have been optimized to work where others markers have failed. Taking the usability of the Inkzall a step further, Milwaukee also included a Stylus that can be used with touch devices such as iPad, iPhones, and other smartphones.
Tool-Rank
Chris   January 01, 2014  
0
1
Contest Information
Contest Ends
January 31, 2014
I am happy to announce that Tool-Rank has teamed up with Milwaukee Tool to kick off the New Year with giveaway of their soon-to-be-released M18 Jobsite Radio/Charger (2792-20). That's right folks; you can win this radio before it is even available in stores.
Tool Blog
Chris   December 11, 2013  
0
1
Diamonds might be a girl's best friend, but when you need to drill through hard stone or tiles, Milwaukee's line of professional Diamond Plus holes saws will be your best friend. Featuring a high grade of diamond grit and heat-resistant brazing, they can cut through hard stone and tiles with up to 10X longer life.
Tool Blog
Chris   December 01, 2013  
1
3
Milwaukee has announced what they are calling "the most advanced radio of its kind", and from the list of features the (2792-20) M18 Jobsite Radio/Charger has, it would be hard to argue with them.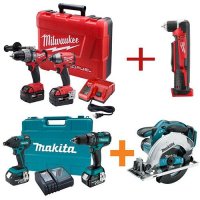 Hot Deals
Chris   November 07, 2013  
0
1
A reader sent in a tip about some sweet Free Bonus Tool promotions (with purchase of select Cordless Combo Kits) going on at HomeDepot. Initially we thought the promotion only applied to Makita and Milwaukee Tools, but it turns out there are DeWalt, Ridgid, Ryobi and Bosch deals as well.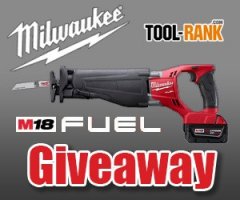 Tool-Rank
Chris   November 01, 2013  
0
1
Contest Information
Contest Ends
November 30, 2013
The folks over at Milwaukee Tool have been cranking out all kinds of awesome tools this year, and many of their cordless models feature the latest in cordless technology. One of those awesome new tech filled tools is their M18 Fuel Sawzall Reciprocating saw, which Milwaukee Tool has donated for this month's giveaway.