Reviews
Chris   June 06, 2013  
0
9
Back when I tested the Milwaukee M18 Fuel Brushless Hammer Drill, I found that it easily proved itself to be a powerhouse. It took on every task with speed, while also showing long battery life. Being that their M18 Fuel Impact driver is in the same M18 Fuel family, can it too prove to be a powerhouse? Let's find out.
Hot Deals
Chris   May 21, 2013  
0
1
Father's Day is coming up shortly and if tools are on your Dad's wish list, you might want to check out the Free Battery Promotion that Makita is running. If you buy a select Makita Combo kit you will get an additional 18-volt LXT Lithium-Ion Battery Free.
News
Chris   May 10, 2013  
0
1
It looks like Bosch US will be coming out with an 18-volt version of their oscillating multi-tool. They gave us a sneak peek at what is to come on their Facebook page. From the photo all we can really see is that it runs on 18-volts and has the tool-less blade change feature that is found on their corded models, but I suspect it is pretty much the same as the cordless model that is already available in Europe. No word on pricing or availability.
Buyers Guides
Chris   May 03, 2013  
0
1
Does your mom use power tools? Does she ask to borrow yours? Mother's Day is less than 10 days away and is coming upon us fast, so why not buy her a drill of her very own? Skil makes one in pink, so she will automatically love it.
News
Chris   May 02, 2013  
0
1
It may not be very well known, but Makita as a worldwide company has a pretty extensive line of outdoor power equipment. Still, I was surprised to see a couple of cordless chainsaw SKU's make an appearance on their U.S. website.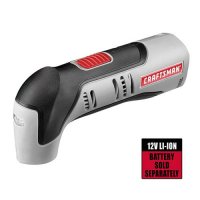 Hot Deals
Chris   April 30, 2013  
0
1
We don't see deals like this very often, but Sears has their Craftsman Nextec line 12-volt Multi-Tool (tool only) for sale for less than ten bucks. This is just the bare tool and doesn't come with any accessories, but what would you expect for only pocket change. The regular price for this tool is $59.99, and kit sells for just under $80. This deal is probably only worthwhile to people that already own Craftsman Nextec 12-volt tools, as a separate purchase of a battery and a charger will cost you nearly $50. You would be better off...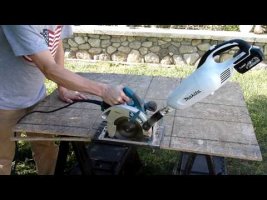 Tool Blog
Chris   April 29, 2013  
1
0
A year or two ago I was given a Makita BCL180ZW 18-volt cordless vacuum cleaner, which I normally use around the house for small clean-ups. The other day I glanced over at it and a thought popped into my head—"I wonder if that will fit onto my circular saw?" Only one way to find out.
Hot Deals
Chris   April 25, 2013  
0
1
If you rely on cordless power tools, one of the best ways to improve their usability is to purchase additional batteries. But why purchase batteries when you can get them for free? I found a couple of deals that can get you free Bosch or Milwaukee batteries.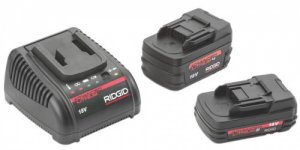 News
Chris   April 16, 2013  
0
1
Ridgid has announced their next generation of 18-volt lithium-ion cordless tool batteries in 2.0Ah and 4.0Ah, and promise improved performance, longer runs times and other advancements over previous batteries.
Manufacturer News
Chris   March 15, 2013  
0
19
Literally, if you took all of the products Bosch Germany announced the other day and multiplied them by X, they would surly weigh a ton or more. There are so many tools I don't know where to start—how do tools that talk to your smart phone sound?