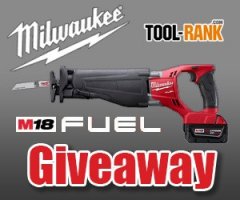 Tool-Rank
Chris   November 01, 2013  
0
1
Contest Information
Contest Ends
November 30, 2013
The folks over at Milwaukee Tool have been cranking out all kinds of awesome tools this year, and many of their cordless models feature the latest in cordless technology. One of those awesome new tech filled tools is their M18 Fuel Sawzall Reciprocating saw, which Milwaukee Tool has donated for this month's giveaway.
Manufacturer News
Chris   October 11, 2013  
0
1
If you having been paying attention to our giveaways, you might have noticed that Senco has come out with an all-new 3-inch DuraSpin Auto-Feed Screwdrivers. In addition, Senco also came out with an extension pole attachment and other accessories to make using their new guns as easy as possible. If cordless is more to your liking, they also have an 18-volt model ready and waiting.
Manufacturer News
Chris   October 04, 2013  
0
2
Milwaukee Tools is set to release a total of six new M18 Compact Drills and Drivers over the next few months that will replace existing models. The new models include two Drills (2606-22CT, 2607-22), two Impact Drivers (2657-22CT, 2656-20), and Two Impact Wrenches (2658-22, 2659-22). All six boast improvements to ergonomics and overall performance.
Manufacturer News
Chris   September 24, 2013  
0
3
If you have been impatiently waiting for Milwaukee to release their 2626-22 M18 Cordless Oscillating Multi-Tool to use alongside your other Milwaukee cordless tools, you won't have to wait much longer—like maybe only a few more days. Along with a freshly delivered press release (below) as evidence, ToolBarn.com has them listed as shipping October 1st.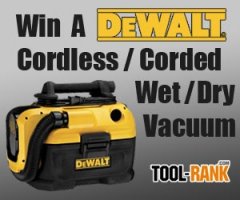 Tool-Rank
Chris   September 03, 2013  
0
1
Contest Information
Contest Ends
September 30, 2013
If you leave a mess at a job you might just end up getting yelled at; but fear not, for DeWALT has recently come out with a new wet/dry vacuum that is both corded and cordless and is small enough for you to take with you. Thanks to the fine folks at DeWALT, we have the aforementioned DCV581H Vacuum as the prize for this month's Tool-Rank giveaway.
Tool-Rank
Chris   August 05, 2013  
0
1
Contest Information
Contest Ends
August 31, 2013
It wouldn't be a very fun summer if it didn't have music, and that is what we are giving away this month. Well actually, we have teamed up with Bosch to give away one of their music making machines; the new PB180 18-volt Cordless/Corded Radio.
News
Chris   August 01, 2013  
2
0
The Festool Carvex Jigsaw was first introduced to North America back in March of 2011. It had a ton of really nice features, but the feature that caught my attention was the LED strobe light that could visually freeze the movement of the jigsaw blade. Sadly, about a month after it was announced, Festool pulled the Carvex and sent out a letter stating "...Late round testing in certain applications specific to North America has demonstrated that the current design does not meet the exacting standards that we demand of ourselves, and that our customers have come to expect..." ...
News
Chris   July 18, 2013  
0
1
Not wanting to let their 12V users be alone in the joy of having music on the jobsite, Bosch has come out with a similarly designed 18V portable jobsite radio. Unlike their previous 18V radio, Bosch slimmed down the size of the new PB180 so that it can fit inside an L-BOXX-2 tool case.
News
Chris   July 01, 2013  
0
1
Back in May, when writing about the introduction of the Makita 36-volt cordless chainsaw, I commented that I would personally like to see a cordless string trimmer. Well, guess what turned up on Makita's website of Friday? The Makita LXRU02Z 18-volt cordless string trimmer.
Gadgets
Chris   June 20, 2013  
0
1
It is not always easy fitting your full sized drill/driver into tight spaces or in awkward positions, and that's what led Joel Townsan to invent a new compact driver that offers a total of 168 configurations—so you are sure find one that suits your task. After 9-years of R&D he has turned to Kickstarter to get his baby into production.