Reviews
Chris   August 22, 2014  
1
12
Up until recently I wouldn't have been interested in reviewing a cordless lawn mower, but with the new battery and motor technology that is available, my interest in them had piqued. Could they finally compete against their noisy gas filled brothers? It just so happened that Sun Joe contacted me and asked if I wanted to review their new 40V Cordless Brushless Mower, so I had to say yes. I wanted to see for myself if their time to shine had come.
Tool Blog
Chris   August 19, 2014  
0
1
Makita has just announced their newest brushless hammer drill, and it looks like they are not messing around this time. They say the XPH07 18-Volt Hammer Drill is able to deliver a full 1,090 in.lbs of torque, and leads the category in torque, speed, and run-time.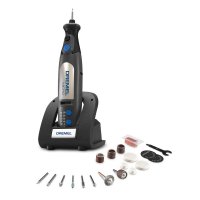 Tool Blog
Chris   July 31, 2014  
0
3
It looks like a new 8V Max Dremel is on its way onto store shelves.  The Dremel Micro 8050 Rotary Tool appears to be smaller than even the current 8V Max Dremel Rotary Tools, but still packs all the features we have come to expect and maybe even has some new ones.
Tool Blog
Chris   July 22, 2014  
0
1
Makita has announced another cordless solution for landscapers with the addition of their 18V LXT Lithium-Ion Brushless Cordless String Trimmer (XRU04Z, tool only). It comes a year after their first cordless string trimmer hit US markets, but because of Brushless technology, it offers a significant increase in runtime.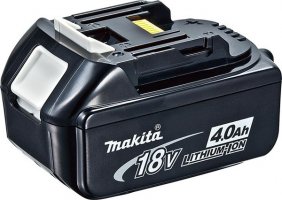 News
Chris   July 18, 2014  
0
2
Users, wanting greater runtimes in their tools, have been impatiently waiting for Makita to introduce their 4.0Ah batteries to the U.S. market. Though they have been available in other countries for months, we just got word that the new 2.0Ah (BL1820) and 4.0Ah (BL1840) batteries are finally starting to come out. In fact, the new 2.0Ah can already be found on sale now in new Makita 18V Compact Lithium-Ion Kits and Combo Kits.
Reviews
Chris   June 20, 2014  
0
9
One tool that everyone wants to be able to have as cordless, is the circular saw, and cordless multi-kits have been including them for years. But were these cordless circular saws any good? Nope. For years we have had to suffer with cordless saws that were so underpowered we wondered why we even bothered lugging them around—because they were convenient, that's why. When Makita announced their new XSH01 18V X2 Circular Saw, they promised us that their saw finally delivered the power and runtime that contractors need. And to make sure it is actually true, they sent us one...
Hot Deals
Chris   May 20, 2014  
0
0
If you are subscribed to the HomeDepot PRO newsletter you are probably used to them sending you a lot a mail with hardly any value in them; but every once in a great while they have a coupon or sale in them that makes it all worth it. Yesterday's email was one of the rare gems, announcing an online sale on select Milwaukee Tools, Ridgid tools, Pnuematic compressors and nailers, and more. And this isn't just a regular sale, the saving on some of the items is big. An 18-Volt Milwaukee Hammer...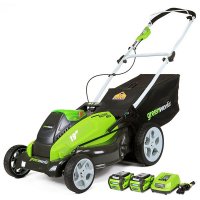 Hot Deals
Chris   April 24, 2014  
0
1
Today only you can save up to 30% off of 16", 19" or 20" GreenWorks 40-volt lithium-ion G-Max lawn mowers from Amazon.com. In case you had any worries about using a battery powered mower, the GreenWorks G-Max mowers have a high 4.3 stars out of 5 on Amazon with 137 reviews.
Tool Blog
Chris   April 17, 2014  
0
1
Isn't competition great? Cordless tools are stronger than ever with brands racing and competing to deliver the most powerful tools; and now we are in a heated race to see who can pack the most Ah into a battery. Well, it looks like Bosch is taking the lead with their new BAT621 5.0Ah 18-volt battery arriving this May.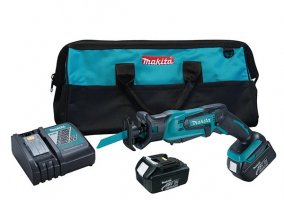 Tool Blog
Chris   April 02, 2014  
0
1
Makita has announced that they are adding a new 18V Compact Reciprocating Saw to their LXT cordless platform. This addition brings their LXT series to over 70 tools that can all use the same 18V battery.