Tool Blog
Chris   February 18, 2015  
1
2
DeWalt wants drywall carpenters to Get More Done, thanks to their new DCF620 20V Max Brushless Lithium Ion Drywall Screwgun with Extended Runtime battery packs. The combination, they say, is what professionals need to get the job done without the hassle of long extension cords.
Tool Blog
Chris   January 30, 2015  
0
1
Milwaukee has announced that they are releasing a new cordless M18 Sawzall Reciprocating Saw (2621) with updated features and technology that will replace the aging model 2620. It has been a few years since the previous model came out, so the 2621 will bring the M18 Sawzall up to par with the rest of Milwaukee's cordless tool line.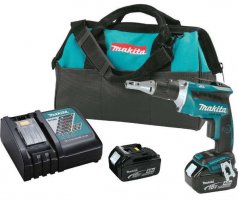 Tool Blog
Chris   January 05, 2015  
0
3
Makita has come out with a new 18V cordless, brushless drywall screwdriver (XSF03M) that is powered by their new 18V 4.0Ah batteries, which they say has the power and performance of a corded drywall screwdriver. The benefit, of course, is that there is no cord to get in the way.
Reviews
Chris   October 17, 2014  
0
14
When Milwaukee announced that they were coming out with an 18-volt cordless 7-1/4-inch circular saw I was both shocked and impressed. Why? Just months earlier one of their competitors came out with the first cordless 7-1/4-inch circular saw, but it required 2x18V batteries (36V). Could Milwaukee do the same with one less battery? To find out for myself, Milwaukee sent me their 2731-21 M18 FUEL Brushless 7-1/4" Circular Saw Kit to review.
Tool Blog
Chris   October 08, 2014  
0
1
Everyone wants to know when Milwaukee will be releasing their new M18 XC5.0 Extended Capacity Battery Pack and you should be happy to learn that they will be coming out next month (November 2014). This means there will be plenty of time for you to add them to your Christmas list. You might be surprised to learn that the new Milwaukee 5.0 Ah battery got more than just boost in capacity and runtime, but I will get to that later.
Tool Blog
Chris   October 06, 2014  
1
2
It was a few years ago that Bosch gave us a first look at their future plans of getting into wireless inductive charging. The first we saw of it was a video demonstrating the technology at CES 2010, and later they gave another preview at one of their press events. Though it has taken some time, Bosch inductive wireless charging will finally be available later this month.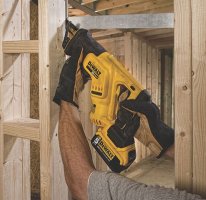 Tool Blog
Chris   September 25, 2014  
0
1
DeWalt is coming out with a new 20V Max cordless reciprocating saw that is more compact to allow remodelers, carpenters, plumbers, electricians, and the like to make controlled cuts in tight spaces such as between studs, or in crawl spaces. With reciprocating saws, sometimes smaller is better.
Tool Blog
Chris   September 21, 2014  
0
1
Black+Decker will be coming out with a pair of new 40V MAX (LCS1240) and 20V MAX (LCS1020) Lithium-Ion cordless chainsaws this November that they say provide the "convenience of cordless maneuverability" with "performance for cutting through dry wood and live logs".
Tool Blog
Chris   September 17, 2014  
0
1
Makita has announced that they have added a new 13-inch cordless fan to their ever growing LXT 18V line. The fan has three speed settings and it can even oscillate to cover a larger area. A built-in timer can be used to automatically shut the fan down after 1, 2, or 4 hours. Makita says it can run for up to 4 hours on a single 4.0Ah battery, but the included AC adapter can be used for longer run times.
Tool Blog
Chris   August 29, 2014  
0
1
Makita is continuing to expand their Brushless line of cordless tools, this time with a new 3-speed ½-inch Impact Wrench, model XWT02M. The new impact wrench kit will also include the new Makita 4.0Ah batteries, which have a best-in-class charge time of only 40-minutes.