News
Chris   December 03, 2012  
1
1
We all hate using the standard squeeze-grip style caulking gun - especially if the weather is cold and you can't get your goop to flow - but we don't really want to spend a fortune on getting a powered unit either. Thanks to Milwaukee we now have a third option with their new M12 ultra compact cordless caulk and adhesive.
News
Chris   November 21, 2012  
1
1
Just in time to get one before Christmas, Makita came out with the new LXRM03B Cordless AM/FM Jobsite Radio. Unlike previous models that featured only a line-in for mp3 player connection, the new model features an actual iPod dock.
News
Chris   November 08, 2012  
0
0
12-volt tools are quickly becoming just as powerful as the 18v tools of just a couple of years ago and might soon eliminate the need for the extra voltage. Just as 12v tools are replacing the need for 18v tools, it looks like Milwaukee could be set on making 4v tools the new compact king, and their new M4 screwdriver is just the start.
News
Chris   November 05, 2012  
0
2
Milwaukee first made their new brushless M12 Fuel line of drills and impacts known during their press event way back in June. They then gave us the clue about the winter release date back in August. Now, with winter just around the corner, they have released the specs, and they have us wondering if you really need 18v tools anymore.
Hot Deals
Chris   November 01, 2012  
0
1
It looks like Bosch is one of the first tool companies to start gearing up for the Christmas shopping season by offering some nice discounts on tools. Now through December 25, 2012 Bosch has a number of 18-volt & 12-volt cordless combo kits marked down by $50. Not only is this a great way to save on some tools for yourself or a loved one, but by shopping at Amazon you are also supporting ToolRank. Win, win. Note: The $50 discount will be applied at checkout and is clearly labeled. BUY Bosch $50 Off Tools...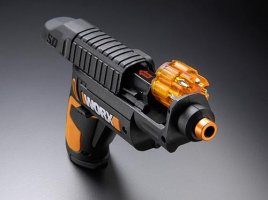 News
Chris   October 25, 2012  
0
1
Tired of having to fumble around with, and keep track of loose driver bits? Worx took the technology of two handgun types and came up with a way to make changing bits hassle free. It looks pretty cool too.
Manufacturer News
Chris   October 02, 2012  
0
3
Who do we turn to when we need saving? Why the Justice League of course. But who does the Justice League turn to when the Hall of Justice needs saving from disrepair? Apparently they turn to the Craftsman Technician and his trusty Craftsman Bolt-On Modular Tool System.
Tool-Rank
Chris   October 01, 2012  
0
1
Contest Information
Contest Ends
October 31, 2012
If you do not own an impact driver you are missing out on one of the best inventions to become mainstream over the last decade. They are a God send to anyone who drives screws, and many who use an impact driver find it impossible to revert back to driving screws with a traditional powered drill/driver. To learn more, check out: What's the difference between a hammer drill and an impact driver? Bosch Tools was awesome enough to sponsor this month's giveaway and provide one of their NEW model IDS181-02 18-volt Impact Driver Kits, so that...
News
Chris   July 16, 2012  
0
0
Many of the major tool brands next generation tool batteries are beginning to incorporate battery level fuel gauges. We are also starting to see that some brands are coming out with 4.0ah batteries in other countries. A recently published Makita patent suggests that a more advanced Makita battery might also be in the works.
Tool Blog
Gary   July 02, 2012  
1
5
Bosch, a name synonymous with professional grade tools and accessories, has recently concluded their 2012 press event. There, in addition to seeing their latest products, I got to meet some of the folks responsible for getting these great products into the hands of great professionals--like you. Informing our group, president and CEO of Bosch Power Tools, Terry Horan, mentioned that while other tool companies tout innovation, Bosch has their focus on invention, and that tweaking an existing tool to make it their own is not the way things are done at Bosch. I was reminded that Bosch is...