Bosch Germany Announces A Ton Of New Products
https://www.tool-rank.com/media/listing/photos/thumbnail/300x300s/d3/98/08/1-PT-18978-83-1363336633.jpg
Chris   March 15, 2013  
Literally, if you took all of the products Bosch Germany announced the other day and multiplied them by X, they would surly weigh a ton or more. There are so many tools I don't know where to start—how do tools that talk to your smart phone sound?
Disclaimer: Just to be clear, these tools have been announced for Bosch Germany and may or may not come to the USA, though many of them probably will.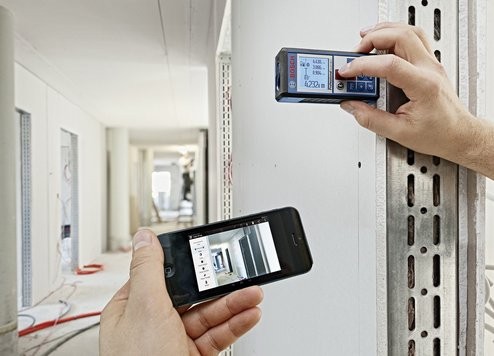 Bosch GLM 100 C Professional Laser Measure Syncs With Your Smart Phone
I think Bosch is giving us an idea of what we can look forward to in the future, tools that give us additional information via our smartphones. The GCM 100 C (connectivity) is able to transfer measurement information to smartphones using Bluetooth, or over a usb connection to a PC. Up to 50+1 measurement can be exported to a PC in a table format with additional timestamp information. The possibilities include being able to attach measurements directly to jobsite photos and sharing them over the internet. MSRP 249 euros + VAT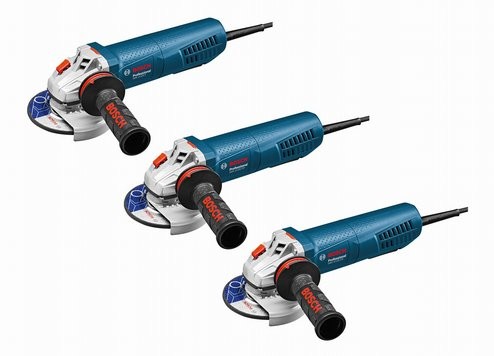 Three 125mm Angle Grinders With "Protection Switch"
Models: GWS 11-125 P Professional, GWS 12-125 CIP Professional, GWS 15-125 CIP Professional
Three new 125mm grinders with power ratings of 1,100 to 1,500 watts. All three feature "Protection Switch", a deadman switch that prevents the tool from operating if the switch is released. They also feature a tool-less blade guard and a large spindle lock button. Don't know if these will come to the U.S.A., we don't like safety features. MSRP 135 to 199 euros +
Bosch 2-Step Grinding System For Angle Grinders
To go with the new grinders Bosch also has come out with a 2-Step grinding system that has been designed for smoothing out and removing weld seams. They have separate pairs for carbon steel, stainless, and aluminum. The bottom fiber disk gets you started and the top SCM disk finishes everything off. MSRP .6 to 1.20 euros +
Bosch Click & Clean Wet/Dry Dust Extractors
Models: GAS 35 L SFC+ Professional, GAS 35 L AFC Professional, GAS 35 M AFC Professional, GAS 55 M AFC Professional.
Bosch Germany has come out with a new vac system that is available in various sizes (35 or 55 liters) that allow their Click & Go boxes to be attached directly to the top. Now you can keep your dust making tools with your dust collecting tool. I guess they saw something in the Festool system that they liked. Each feature 1380 watt suction turbines, non-marring wheels, and semi or automatic cleaning options. MSRP 429 to 829 euros +
Bosch GML SoundBoxx Professional 14.4V/18V Radio
Last August Bosch Germany announced their 10.8V radio that we are just now getting in the US. This new radio is similar in appearance and in size, but accepts 14.4 & 18V batteries. It delivers two 5-watt speaker, 5 presets for AM and 5 for FM, and is MP3 compatible. You can get it with a 14.4 or 18V drill driver kit with L-Boxx, or as a stand-alone with insert. MSRP 99 euros tool only, 14.4 Drill kit 389 euros and 18V Drill Kit 439 euros.
Bosch Expands L-Boxx System With Drawer-Like I-Boxx Rack
Not to be confused with the other LS-BOXX drawer-like system which also has a top compartment, the I-Boxx Rack is just another way to add I-BOXX drawer functionality to your existing Click & Go boxes. The racks look like a nice way to add more flexibility to the system. MSRP for the 3-piece I-BOXX Rack Block 83.61 euros. Each layer is a separate piece including the top handle. The actual I-BOXX drawers are separate. Single layers will cost 21.85 or 25.21 euros depending on if you buy with the red coupling side levers or not.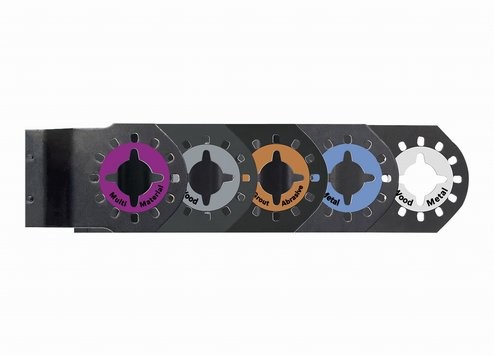 Bosch Color Coded OIS Oscillating Tool Accessories
Just like Bosch has color coded their jigsaw blades to make it easier to quickly identify what you need, they are doing the same for their Multi-tool blades. Each color lets you know what type of material the blade is best suited to be used on. Categories include wood, metal, wood/metal, grout/abrasives, and multi-material.
They have also come out with C-Tec Precision blades made of bi-metal and high-carbon steel with a reinforced tool mount and anti-vibration slots. A curved cutting edge and tapered body reduce friction and make for a better cut. MSRP 12.27 for a single blade up to 262.50 for a 35 pack. An I-BOXX accessory set is an additional option that would fit nicely with the I-BOXX Rack. MSRP 149 euros.
Bosch 14.4 & 18V Cordless Oscillating Multi-Tools
Models: GOP 14,4 V-EC Professional, GOP 18V-EC Professional
This might be the most exciting news. Bosch's 10.8 volt multi-tool sure is handy—I actually used it yesterday on some windows at home—so who wouldn't like a version with a bit more runtime? These come with 4.0Ah batteries, so you are getting the best Bosch has to offer. You will notice they have the tool-less blade change system and are variable speed. They can run 8,000 to 20,000 oscillations with a degree of 1.4. The 18-volt version in a complete kit with L-BOXX, two 4.0 batteries, charger, and a few accessories is marked at 449 euros.
Now you can see how the whole L-BOXX system works together. Pick up the Cordless multi-tool with L-BOXX, attach the I-BOXX Rack underneath, add on the I-BOXX OIS accessory kit and you have a complete setup in one "block".
Looks like we have a lot of new tools to look forward to.
laser distance measurer
•
smartphone
•
18 volt
•
cordless
•
L-BOXX
•
12V Max
•
14.4 volt
•
oscillating tool
•
Multi-X
•
Bosch Germany
•
dust collection
•
I-BOXX
•
mini grinder
•
radio
•
wet/dry vacuum
•
GLM 100 C