News
Chris   March 11, 2013  
0
2
While some brands advertise that their cordless tools can be used with compact batteries and full sized batteries, Panasonic has gone one step further by making a series of dual voltage tools that accept both 14.4v and 18v batteries. Panasonic is also leading the charge with 4.2Ah batteries, the highest in the industry.
Tool-Rank
Chris   March 05, 2013  
0
1
Contest Information
Contest Ends
March 25, 2013
Milwaukee is currently running a giveaway on their Facebook page where you can win a pair of their Redlithium batteries. They will be giving away a grand total of $5000 worth of batteries that will go to a number of lucky winners. And because we are awesome, Milwaukee has also given Tool-Rank readers a second chance at winning a set.
News
Chris   January 30, 2013  
0
1
Milwaukee Tool has been really targeting and capturing the speciality tool market with their cordless line over the last few years. While most of their speciality tools fall under their M12 line, the newly announced Milwaukee cordless grease gun will indeed be powered by 18-volts.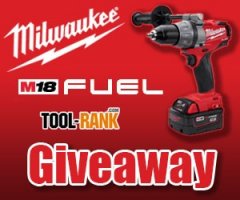 Tool-Rank
Chris   January 28, 2013  
0
1
Contest Information
Contest Ends
February 28, 2013
We took a little bit of time off from our giveaways over the holiday season, but we are back in the new year with a great new giveaway from Milwaukee Tool. Up for grabs this month is the Milwaukee 2603-22 high performance M18 Fuel brushless cordless Drill/Driver, a tool that features some of the latest in cordless tool technology. If you are looking for a powerhouse in a drill, this is it.
News
Chris   January 22, 2013  
0
4
It looks like Rockwell Tools is bringing the 14.4V cordless class back from the dead. With 18V tools becoming more powerful than ever and 12V tools becoming smaller than ever, Rockwell is looking to fill the gap.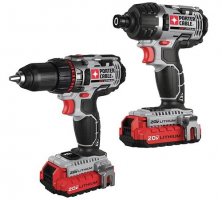 News
Chris   January 07, 2013  
0
1
Porter-Cable has announced a February release date for their new 20V Max Lithium-ion Drill and Impact Driver. And Tool-Rank still hates having to explain to people that 20V Max is the same as 18V.
News
Chris   December 28, 2012  
1
2
In need of moving some air without having to be tied down with long extension cords? Makita has you covered with the introduction of their new BCF201Z 18-volt LXT cordless fan. With it you have a hassle free way to dry mud, or just keep cool in the summer.
News
Chris   December 14, 2012  
0
1
We have been hearing rumors about the new Bosch 4.0 batteries for a few months now and we have even seen some press releases for European tools that picture the new batteries. Now we have received word that the new batteries will hit European stores next month.
News
Chris   December 13, 2012  
0
1
We are all moving in the direction of using more cordless tools to get the job done, and more tools means more batteries. Milwaukee has announced a new charger that accepts 6 batteries at once and should make the task of charging a bit easier.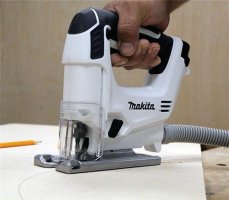 News
Chris   December 07, 2012  
0
2
It looks like Makita has really started to build up their 12V lineup, this time with the new VJ01W 12V Max Cordless Jigsaw. The VJ01W has a feature I would have never expected to see on an ultra compact jigsaw, and that is a dust extraction port.