9 results - showing 1 - 9
Tool Blog
Chris June 13, 2014
0
1
We have seen Festool Systainers modified to suit the different needs of its users, including being turned into a jobsite radio, or another jobsite radio, and I have even seen one turned into an air compressor housing. But just like what Festool did with their Systainer First Aid Kit, they have come out with their own Limited Edition Insulated Systainer Modification.
News
Chris December 04, 2013
1
1
Since many of us already use our toolboxes as make-shift worktables, Festool went ahead and built a miniature worktable right into the top of a SYS-1 sized Systainer. With it, you can be sure to always have a workbench to go along with the rest of your tools.
Tool Blog
Chris August 16, 2013
1
1
How do you make the popular Festool MFT even better than it already is? You give it a bunch of accessories. Lee Valley has put together a Veritas bench dog kit that turns the MFT into the ultimate work table. And if you don't have an MFT, they give you the drill bit to make your own.
News
Chris July 25, 2013
1
1
I have always looked at the Festool MFT (Multi-Function Table) as great little work table, but not practical for jobsite use. I just never liked the idea of having to carry it around on the jobsite along with all of my other tools. But Timothy Wilmots' modified MFTC (Multi-Function Tool Cart) looks like an ideal way to transport both the MFT and your tools.
News
Chris March 20, 2013
0
1
Sometimes it can be a hassle to always have to lift the top to get the things you need out of your Systainer. To make your tools a bit easier to get to, Festool has announced the addition of a new Systainer that has no top.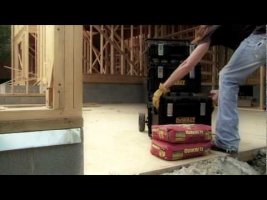 Editorial
Chris October 04, 2011
1
0
Where oh where could it be? The DeWalt ToughSystem was one of the products that really caught my eye back when DeWalt made their big product announcement in June. The system might not have anything new in terms of stackability compared to the Festool Systainers, or the Sortimo L-Boxx, but they had other features that, in my opinion, really put the ToughSystem boxes up a level. The other brands, as well as the DW ToughSystem, feature a lock-together stacking feature, but DeWalt was the first to engineer a transport system that did more then just carry boxes....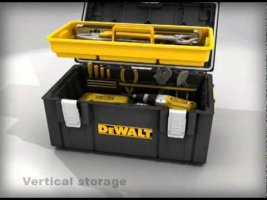 News
Chris June 06, 2011
1
0
I have been battling with the idea of purchasing a few Systainers so that I can use them with a hand truck to get my tools on and off the jobsite easier for a few years now, but the pricing always kept me away. Then out came the L-Boxx from Sortimo, and it popped into my mind as a possible solution. The L-Boxx then became the front runner when Bosch made them more readily available here in the States. However, now it looks like DeWalt's Tough System is the ideal storage/transport system for my needs. The Tough...
News
Chris March 23, 2011
0
0
OK not really, but they are offering a limited edition Festool first aid kit. Every contractor should carry a first aid kit and it also happens to be the law, so you might as well be medically prepared in style. The kit contains all of the common supplies required for emergency first aid, and has been certified to be ANSI/OSHA compliant. The important stuff is all housed in a Systainer 1, complete with red and white first aid emblem latches; too bad Festool didn't use the new T-Loc Systainer. Contents listed below. One question...

News
Chris December 21, 2010
0
0
If you are a fan of the Systainer stackable storage system, you will probably be happy to know that Tanos has given the Systainer a much needed update. The new T-Loc Systainer not only ditches the old bland look for something much more stylish, but the hardware sees a huge change with a completely re-engineered latch system. What once required 4 latches to mount one box to another, now only requires one. The T-Loc makes use of two hooks to keep the back of the boxes together, and a single locking knob to latch the front....
9 results - showing 1 - 9