Hitachi NV65AH 2-1/2-Inch Coil Siding Nailer
Hot
https://www.tool-rank.com/media/listing/photos/thumbnail/300x300s/05/19/06/249_NV65AH_1221661527.jpg
PutnamEco September 17, 2008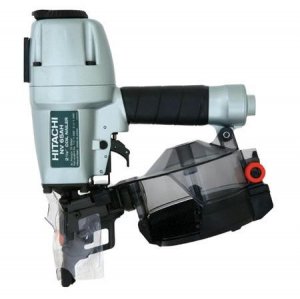 Includes:
Safety Glasses <br />
Allen keys<br />
Soft tips
2-1/2-inch coil siding nailer operates at 70-120 psi; accepts plastic and wire collated nails
Tool free depth of drive adjustment; air deflector pivots 360 degrees;
no-mar nose cap
Anodized aluminum and comfortable rubber grip
Includes safety glasses and 2 hex bar wrenches10-1/2 by 5-1/6 by 11-13/16;
5 pounds; 1-year warranty From the Manufacturer
The Hitachi Siding Nailer, the Feather weight champion of fiber cement board installation. This tool has so many uses you can't call it a Siding Nailer. The ability to accept both plastic and wire collated nails (1-1/2- to 2-1/2-inch-by-.090-.099) make this tool completely unique. This tool weighs only 4.6 pounds. It has a tool-less depth of drive adjustment that can countersink or flush drive your nails. It has the power to drive case hardened nails into CONCRETE! Need a light furring strip Nailer? This Nailer can be used for siding, furring strips, sheathing, truss yards and framing. All in one tool with the quality reputation of Hitachi behind it. Hitachi Power Tools are backed by a 30-day satisfaction guarantee and a limited one-year warranty on parts and labor. Includes: Safety glasses. Accessories available: Single trip trigger mechanism - 880414.

Product Description
Pneumatic Coil Siding Nailer, Wire/Plastic Collation, 1-1/2" To 2-1/2" x .090 To .099, Lightweight 4.6 LBS, Depth Of Drive Adjustment To Countersink Or Flush Drive Nails, Drives Wire & Plastic Sheet Collated Nails, 360 Degree Adjustable Exhaust Deflector, Includes: Safety Glasses, No Mar Nose Cap, Hex Bar Wrenches: 5/4/3MM, 5 Year Warranty.
User reviews
Hitachi tools
DO NOT BUY HITACHI ANYTHING , THEY ARE SCAMMING CONSUMERS WITH POOR QUALITY AND WORTHLESS WARRANTY
Was this review helpful to you?
Nice, but a little under powered
I would love to like this nailer, but I find it difficult. It is well balanced and very comfortable to use. It is sensitive as to what brands of nails it works with. If you don't feed it the nails it like, expect a lot of jams. Hitachi and Bostitch (wire collation seems to work better) are the only nails that I found to work consistently.

This nailer does not like lower air pressures with long nails, especially ring shanks, I have to reset my compressor to cycle when it gets down to 100 psi. and deal with the more frequent cycling.

This nailer only comes set up for bump firing. I would prefer a lever to switch between modes.

Unless you REALLY have to shoot the shortest nails I would recommend getting the Hitachi

NV75AG or Makita AN611
Cons
Sensitive to air pressure