17 results - showing 1 - 10
Air Wrenches
soartec April 02, 2013
0
2
This new Heavy-Duty Air Pneumatic Impact Wrench made by Taiwan manufacturer SOARTEC, fully designed for heavy industries, for heavy truck repairs and maintenance. This model has 2", 6", 8" long anvils for customer selection, also with inlet angle options of 30 degrees, 45 degrees and 90 degrees(L shape) to cater for convenience in various working environments. Go to http://www.soartec.com.tw for more product reference.
Compressors
Guest November 29, 2010
0
1
2-Gallon Inflation and Fastening Air Compressor with Nailer and Accessory Kit
Accessories
IndyEngineer July 29, 2010
0
2
Impact sockets are for use with impact drivers. Socket wall dimensions are optimized to provide strength while providing access to restricted fasteners. 1/2 in. Drive
Nailers
SulSaw January 01, 2009
0
1
Porter-Cable FCN200 2" Flooring Cleat Nailer Features: •Drives "L" shape cleat nails from 1-1/2" to 2" •Pneumatic driving action consistently drives fastener for better finished installation •Unit comes fully assembled and ready for use right out of the box •Strong, lightweight, die-cast aluminum housing •Non-Marring base is designed to allow driving of fastener close to wall •Better balance for stability - tool sits upright for smoother floor installation •Rear-load gravity feed magazine with a bypass pusher •Air fitting is angled so hose does not interfere with magazine or operator •Ergonomic design with longer handle for easier use •Hardened driver...
Nailers
PutnamEco January 01, 2009
0
1
FEATURES Drives Senco type "N" wire 16 Ga. 1/16" crown construction staples from 1" to 2" long Powerful piston with Teflon® ring design that prevents cylinder bore scuffing - lasts far longer than conventional "O" rings Tool-free adjustable exhaust diffuser Open top-load hard coat anodized magazine with push-button follower accommodates two 70-staple strips or three 50-staple strips Quick-release nosepiece for easy jam removal Tool-free depth-of-drive adjustment to enable fastening without staple drive-through Standard Equipment: Stapler, 3/8" NPT air inlet w/ 1/4" male quick plug with dirt & dust cover, rugged carrying case, oil, wrenches, and operating manual SPECIFICATIONS Fastener...
Nailers
PutnamEco December 30, 2008
0
1
1/2- to 1-1/2-inch 18-gauge narrow crown stapler with factory installed air fitting for convenience Selective actuation switch to choose between bump fire or sequential fire modes; tool free depth adjustment Tool-less, easy to clear nose for quick staple extraction; magazine holds up to 130 staples for efficiency; no-mar tip; 360-adjustable exhaust Includes safety glasses, air fitting, hex bar wrenches, case 10.3 x 2,3 x 9.2 inches (LxWxH); 2.3 pounds; 5-year warranty
Nailers
SulSaw December 29, 2008
0
1
Model #
Porter-Cable NS100A
Uses standard Ga., 1/4" crown staples from 1/2" to 1" long Special hardened driver blade Tool-free jam release mechanism designed not to block line of sight Sequential fire trigger Strong and light weight die-cast aluminum body Contact safety located behind driver guide for stapling in tight spaces Tool-free depth adjustment for exact setting of staple Removable rubber nose cushion protects delicate work Tool-free directional exhaust port Standard Equipment: Stapler, 1/4" male quick plug with dust cover, carrying case with provision to store 5,000 staples, box of 1,000 staples, oil, wrenches, and operating manual
Nailers
SulSaw December 21, 2008
0
4
Model #
Porter-Cable FN250B
Uses 16 GA. finish nails from 3/4" to 2-1/2" Streamlined body design for better grip, balance, and style Sturdy aluminum extruded magazine Internal piston catch mechanism keeps piston at initial position - for consistent power Tool-free nail depth control with detents Tool-free jam release mechanism designed not to block line of sight Tool-free adjustable exhaust Non-marring nose tip with on tool storage Standard Equipment: Nailer, case, box of 1000 finish nails of 2", 1/4" plug with cap, oil, wrenches, and operating manual
Nailers
PutnamEco September 17, 2008
0
1
2-1/2-inch coil siding nailer operates at 70-120 psi; accepts plastic and wire collated nails Tool free depth of drive adjustment; air deflector pivots 360 degrees; no-mar nose cap Anodized aluminum and comfortable rubber grip Includes safety glasses and 2 hex bar wrenches10-1/2 by 5-1/6 by 11-13/16; 5 pounds; 1-year warranty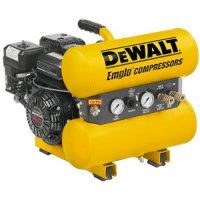 Compressors
PutnamEco September 10, 2008
0
1
4 HP, 4 Gallon, Gas Twin Stack Compressor, High Volume Air Output 4.5 CFM @ 100 PSI, Portable Air Power Honda 4 HP Gas, Automatic Throttle Idle Control, Direct Drive Pump For Improved Portability, Oil Lubricated Improved Compressor Life.
17 results - showing 1 - 10