Porter-Cable FN250B 3/4-Inch to 2-1/2-Inch 16-Gauge Finish Nailer
Hot
https://www.tool-rank.com/media/listing/photos/thumbnail/300x300s/f6/1a/0f/326_PorterCableFN250Brw6323418244_1229929755.jpg
SulSaw December 21, 2008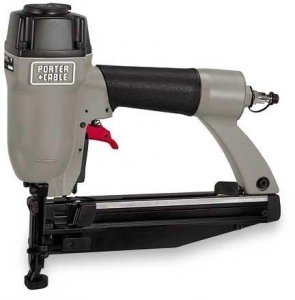 Model #
Porter-Cable FN250B
Includes:
Nailer
Case
Oil
1,000 2-inch fasteners
Wrenches
Manual
Uses 16 GA. finish nails from 3/4" to 2-1/2" Streamlined body design for better grip, balance, and style Sturdy aluminum extruded magazine Internal piston catch mechanism keeps piston at initial position - for consistent power Tool-free nail depth control with detents Tool-free jam release mechanism designed not to block line of sight Tool-free adjustable exhaust Non-marring nose tip with on tool storage Standard Equipment: Nailer, case, box of 1000 finish nails of 2", 1/4" plug with cap, oil, wrenches, and operating manual
The model FN250B, which uses standard 16-gauge finish nails between 3/4 and 2-1/2", was completely re-engineered to offer a more compact design as well as a streamlined body for an improved holding position. Its tool-free jam release mechanism was purposefully designed to improve the line-of-sight during nailing applications. Porter-Cables new design eliminated the need for an insert when using smaller nail lengths. Weighing only four pounds, Porter-Cable minimized the units weight while also extending the tools life by using a new-age Teflon cylinder that minimizes friction and requires less oil. Preliminary tests have revealed that the model FN250B provides twice the life of its predecessors. Its highly advanced piston catching mechanism captures the pressure when the piston is at its highest point in the stroke. As a result, the FN250B delivers consistent power with every shot.
User reviews
(Updated: March 27, 2014)
Great air gun and best customer service..doesnt li
This is a great tool, and the other P.C. brad nailer and compressor combo i purchased in 2006 for $225. The first time i used it on a job site where it was colder than 32 degrees the ultra-thin walled plastic air sleeve that allows the hammer to drive the nail, breaks. Its very brittle. I sent the issue to porter cable and called them. The Cust. Service lady asked if i was good at repairing it myself to avoid a repair company or Porter Cable to fix it themselves, and i said of course and they sent me a little box with the cylinder in it, for free ! it was about 3 years old at that point. Thats what i call standing behind your products…still using it/them
Pros
light, hardly ever jams, solid feed system, accurate depth adjustment
Cons
The cylinder that operates the drive hammer breaks daily ion cold weather
Porter-Cable FN250B finish nailer
This is a great finish nailer, it's light, comfortable and well balanced. The rubberized handle provides a good amount of cushioning during extended use and fair amount traction for those warmer days when hands can become prone to sweating. I've been using the nailer for several years now and have yet to have a jamb. Just a drop of oil to keeps things running smoothly and not a problem to be had. If a problem should arise, the gun does have an easy, tool free jamb release.
I've used this gun primarily for flooring and hanging doors. A nice feature is the non marring nose tip, it works great when face nailing a couple of prefinished planks,no marks, but even better, it can be removed to allow the user to position the gun flush, and shoot the fastener at an angle, it allows the floor installer another row to hide the nails.
This gun comes with a magazine that can hold up to 100 nails, the kit came with 2inch nails, which is usually my go to fastener size, but for tasks that need extra holding I use 2-1/2 inch fasteners. The gun can use smaller nails, all the way down to ¾ of an inch, and the depth can be adjusted, but when I need smaller nails, I usually want a smaller gauge as well so I often end up switching over to a brad nail gun instead.
This gun comes with a single fire sequential trigger, the bump contact trigger is available for free, but the operator needs contact PC, and they will send it via mail. I chose not to, since I like the safty of the sequential and that I don't really need a contact trigger, but the option is available to those who need or prefer it for free.
Last feature of this gun that looks to have been completely revamped in the new version of this gun (Porter-Cable FN250C) is the directional exhaust port located near the front of the tool. The new one I appears exhaust from the back, I could be wrong but judging from the photos it looks that way, this model exhausts from the front.
The only time the exhaust port has cause me any grief is when I have forgot to move it to the side and have fired the gun close to a newly sheetrocked wall, and got a cloud of joint compound dust in my face. Out in the open the exhaust port is never a problem for me, just dusty close quarters.
Overall this is a great, well designed gun that would make a good addition to anyone's air tool collection.


Pros
Light, well balanced, no mar nose tip, fastener sizes and depth settings