Power Tools Firestorm 10 Inch 15 Amp Table Saw with Stand - FS210LS Reviews
https://www.tool-rank.com/media/listing/photos/thumbnail/300x300s/ed/d7/b7/172_FS210LS1_1214772850.jpg
Chris   June 29, 2008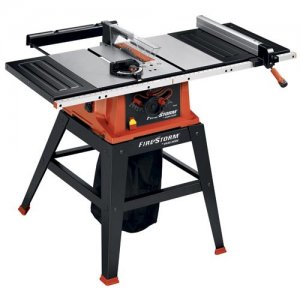 Includes:
Table Saw
Stand
Blade Wrenches
Dust Port & Bag
T-Slot Miter Gauge
Front & Rear Locking Rip Fence
Large Machined Table Top for Maximum Support
15 Amp Motor for the toughest cutting applications
Robust Locking fence for accurate cuts every time
Integral Dust Collection to keep area clear of debris
T-Slot Miter Gauge
Rear Outfeed Support & Extension Wing Provide Support needed to rip large panels or extra-long stock
Carbide-tipped saw blade for cutting all types of wood, plastic and non-ferrous metal
User reviews
Good starter saw
Bought this saw about 5 years ago on a limited budget. Worked well for the time outside of the few cons. Over all a fairly decent saw for the money and a great starter saw for anyone.
Pros
Good power for almost any cut
Cons
broken switch after 6 Mos, fence required adjustment,
Was this review helpful to you? 
Parts
I am looking for a fence for my Black and Decker FireStorm Type 2 table saw Model # FS210LS and am having a hard time finding something. Can somebody give me a few leads where to look.

Thanks
Firestorm table saw
I have had this saw about 3 years. I use it for beginning woodworking. While this cannot compare to a Sawstop or other cabinet saw, it has certainly met my needs. It supports the use of stacked dado sets and the fence is easy to adjust and measures right on with the front measureing system.

The only real con I have is the pullout outfeed support. It is just a couple rode this a housing on the back that tends to bind if not pulled out square. This may seem like a small thing but it is bothersome. In order to pull it out squarely you have to wald around the saw. Maybe I'm just lazy.

I have it stored in my carport under a riding mower cover. No signs of rust or weather effects.

Both the right and left side tables make it easy to support a variety of sleds and material lengths.

The dust collector is a cloth bag that hangs below the saw. Works pretty well to contain most of the dust, though I do brush it off afer use and use a shop vac to really clean it out.
Pros
Easy set up, decent dust collection