Add new listing
RichLarow   March 27, 2014  
0
2
Seriously badass saw. All about the power here, 2,065 W machine.
Buck Henry   August 27, 2012  
0
1
The Tradesman Twin DC with Cuttermasters' Precision Plated Wheels produces a smooth flat predictable finish with no heat, no dust, and a reduced risk to life, lung and limb. This is not like your father's bench grinder with stone wheels, a bucket of water, dust and lumpy wheels. •Our grinding wheels have flat surfaces, sharp corners and there is virtually no dust, or dressing, just a good finish every time. •Our Patented DC motor grinding system allows you to remove material without generating excessive heat. •The smooth flat surfaces and crisp corners allow you to sharpen tools (like reamers...
DIHerself   August 27, 2010  
0
2
5.5 Amp Power Variable Speed (15,000 - 30,000 RPM) Provides precise control of cutting speed when cutting a variety of materials Soft grip body
Michael   July 29, 2010  
0
2
7.0 Amp of Power for maximum performance Angled Belt Design sands 3x closer to the edge of the adjoining surfaces Retractable hood exposes top of sanding belt for use in a variety of applications Three position adjustable handle provides comfort in a variety of applications Dust collection with easy empty dust bag for a cleaner work area and ease of use Low Profile Design extended reach for maximum functionality Flush body design allows for sanding against vertical surfaces ...
Guest   January 11, 2010  
0
1
Powered by a quiet 1/4 HP induction motor that also extends tool life Features a dust port for easy shop vacuum connection to reduce dust and debris Cast iron table bevels 45 degrees right and left for more applications and flexibility with the work-piece
Chris   December 17, 2009  
2
1
Giving you the ability to sand, polish, scrape, and cut a wide variety of materials, the Rockwell RK5102K Sonicrafter Deluxe 72-piece Kit is your all-in-one tool kit for carpentry work. Enhanced by 71 accessories, the variable-speed tool operates with microsonic high-frequency oscillation to produce smooth, safe movements without kickback. Ideal on the job site or around the house, this efficient tool boasts a slim body that makes it ideal for working in confined spaces.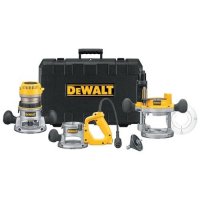 PutnamEco   November 25, 2009  
0
2
-12-amp motor with variable speed and three bases for versatility and reliability performance -Micro-fine depth adjustment ring for 1/64-Inch adjustments and precision results -Ergonomic design, detachable cordset, and quick-release motor latches for convenience -Weighs 7.2-pounds for easy handling
Chris   November 14, 2009  
0
1
Head tilts 45° left and right, tilting the blade, not the table keeping the workpiece level for better control & more accurate cuts. 21" Throat capacity. 2" Cutting thickness capacity. Large 13 1/2" x 23 1/2" (345 mm x 597 mm) table surface. Quick blade changes with finger operated blade clamps, no tools required. Easy access speed and tension controls. Organized blade storage on base. Onboard dust blower.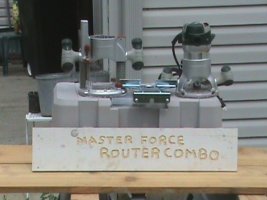 Tim1968   August 08, 2009  
0
2
2HP slow start multi speed router combo kit produced for Menards under the Mater Force name.
PutnamEco   April 10, 2009  
0
1
Exclusive BodyGrip design features a tactile handgrip molded-inch to the base of the router Linear depth adjustment system makes both coarse and micro-fine height adjustments quickly and accurately Router sub-base-includes a special access hole for above-the-table depth adjustments Package-includes 1/4- and 1/2-inch self-releasing collets